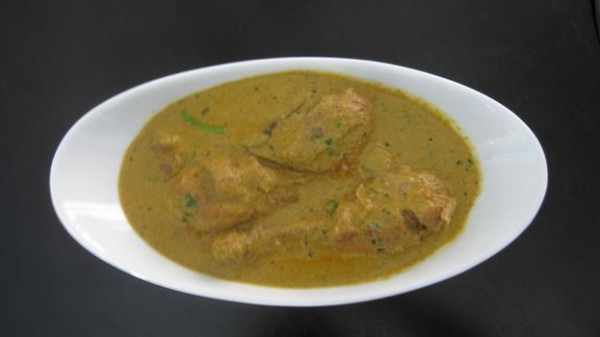 Goa at your door step
"This recipe is very famous in Goa and normally people prepare it on occasions or at small get together's. This is the most popular food selection in Goa apart from the main dishes like Sorpotel and Vindaloo  which are pure Goan delicacies" says Laura Azavedo –  A teacher at Ira International School who is a Goan by birth and resides at Nagpur.She further adds that this dish truly reflects the tradition of Goa and also its culture because this dish has a variety of spices that blend together to give that blend of taste, the same way like Goa absorbs all the various cultures and people who come for holidays and blends well with them to become that perfect holiday destination.
Preparation Time : 25 minutes
Cooking Time : 40 minutes
Servings : 4
Ingredients
Chicken, cut into 12 pieces – 1 (800 grams)
Oil – 4 tablespoons ( 2 – 4 tablespoons )
Coconut, scraped – 1 cup
Garlic – 4-6 cloves
Whole dry red chillies, broken – 4
Cumin seeds – 1 teaspoon
Coriander seeds – 1 1/2 tablespoons
Black peppercorns – 10
Fennel seeds (saunf) – 1 teaspoon
Carom seeds (ajwain) – 1 teaspoon
Poppy seeds (khuskhus/posto) – 2 tablespoons
Cloves – 6
Cinnamon – 2 inch stick
Star anise – 4
Turmeric powder – 1/2 teaspoon
Onions, chopped – 2 medium
Salt – to taste
Tamarind pulp – 1 tablespoon
Nutmeg, grated – 1/4 teaspoon
Method
Heat one teaspoon of oil in a pan and lightly brown coconut and transfer into a mixer jar. Add garlic cloves.
Dry roast red chillies, cumin seeds, coriander seeds, black peppercorns, fennel seeds, carom seeds, poppy seeds, cloves, cinnamon and star anise till fragrant. Add it to the coconut in the jar. Add turmeric powder and a little water and grind to a smooth paste.
Heat the remaining oil in a deep pan and sauté onions till well browned. Add chicken and sauté on high heat for two to three minutes. Add salt and mix.
Add the masala paste and stir well. Add two cups of water and stir. Add tamarind pulp and mix.
Grate some nutmeg (about ¼ teaspoon) and add. When the mixture comes to a boil, reduce heat, cover and cook for about thirty minutes or till the chicken is done.
Serve hot with boiled Goan red rice or Bread.
By Laura Azavedo