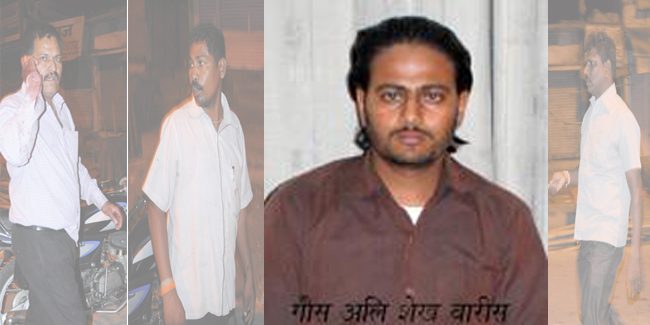 Nagpur News: His rise seems to be a rip off from an underworld Bollywood movie, but history sheeter Raja Gaus, a resident of Yasin plot near Bada Taj Bagh in Nagpur has become the major cause of concern for city police and citizens alike. Gaus has been giving sleepless nights to the city cops with the recent shootout rampage and back to back incidents of loot at various places in the city during the last three days. Interestingly, Raja Gaus has been targeting police lately.
Though police have kept strict vigil and high alert for nabbing the dreaded criminal Gaus, who shot to fame with his infamous crime indulgences in the past, it did not reach any breakthrough. Cops are still groping in the dark and beating about the bush as every time Gaus was spotted, he managed to give a slip to the disgruntled cops.
The chase game is not new. Gaus has been absconding right since he started off as petty thief who took up burglaries and robberies in the later course. He gradually picked up some unemployed youths and formed the gang which unleashed a trail of terror among the people in the areas like Untkhana, Nandanvan and other connecting areas.
Sources revealed that Gaus has also attempted to extract ransom from the rich traders in the area. Police said that Gaus is now involved in illegal supply of arms and weapons. Five months before, police had arrested in injured condition but Gaus had jumped off from Sakkardara hospital while undergoing treatment.
As the citizens are distressed with the chaos spread by Gaus, police is helplessly sounding alert but to no avail. On Thursday itself, hours after Gaus and his gang members opened fire on Nandanwan police team at Jagnade square, another incident of firing came to light by none but his members.
City police chief K K Pathak has alerted all senior police officers to nab Gaus at any cost. Since Wednesday night, entire city police have been on its toes searching for Gaus. Surprisingly, Gaus managed to give slip three times to cops. On Thursday around 4 am, Gaus was seen near Raja Rani Durgawati Nagar but disappeared in the dark. To this, a high alert was ordered at North Nagpur. CP Pathak and Jt. CP Sanjay Saxena were on patrolling in the wee hours of Thursday.
Second time, he was found near Teka Naka. Cops tried to chase him but he again disappeared through the lanes and buildings. He was last seen near rural police office. This time, cops had almost reached close to him but he once again fired on cops and escaped. Firing sound panicked residents and thus Nandanwan police has to stop their operation.
On Wednesday night, Gaus gang members had even stolen two bikes from passers-by at gun point to escape. Both the cases has been registered at Nandanwan police station.