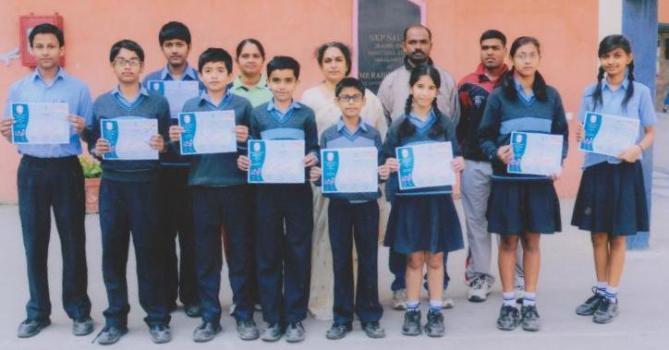 Nagpur News:
In the DSO level SQAY Martial Art Championship held from 22nd to 24th December at the DSO sports complex was a happy hunting ground for the students of Centre Point School, Wardhaman Nagar, in the Lobo event.
Dipti Pirwani(36 kg), Purvi Chauvan (44 kg), Saloni Dhariwal (52 kg), Ansh Agarwal (60 kg), Tanmay Maharkar (45 kg), Karan Pateland Naushad Dhun (44 kg) were placed in the 1st place, AyushBarg (60 kg) was placed in the 2nd place and Ishant Ganjure (46 kg) in the 3rd Place.
CENTRE POINTERS BAG PRIZE AT NATIONAL SQAY CHAMPIONSHIP
In the DSO National Level SQAY Martial Art Championship 2013, held from 2nd January to 8th January, 5 boys and 2 girls of Centre point School, Wardhaman Nagar Qualified and participated in the Lobo event. It was held in the Sports Branch of Delhi.  The Children who participated in the Nationals are: Karan Bheda (61 kg), Dipti Pirwani (36 kg), Ayush Barg (60 kg), Purvi  Chauhan (44 kg), Naushad Dhun (44 Kg), Ansh Agarwal (60 kg) and Tanmay mothatkar (45 kg).Tanmay Matharkar was placed in the 2nd place in the 45 kg event and received a certificate of merit
The Lure of Gold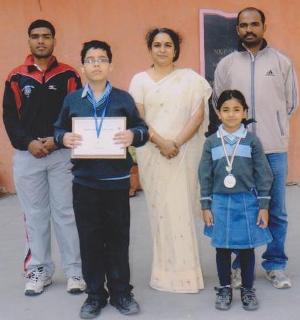 Harshita Zawar and Akshat Khurana brought laurels to their school, Centre Point School, Wardhaman Nagar by winning gold medals in the Kata event of the Vidarbha level Karate Championship 2012, held at Maa Bhagwati Hall, Nagpur on 16th January. The school Principal, Mrs. Sumathi Venugopal congratulated the winners and their coach for their wonderful performance.