Central India's largest youth fest 'Indian Youth Conclave 3.0' on August 18,19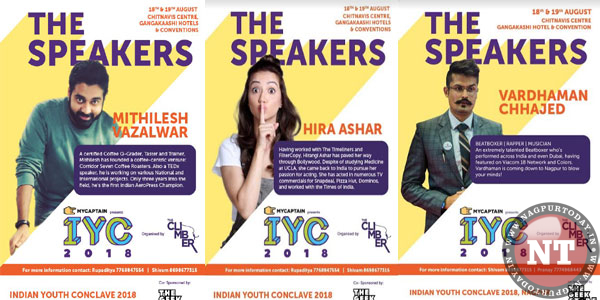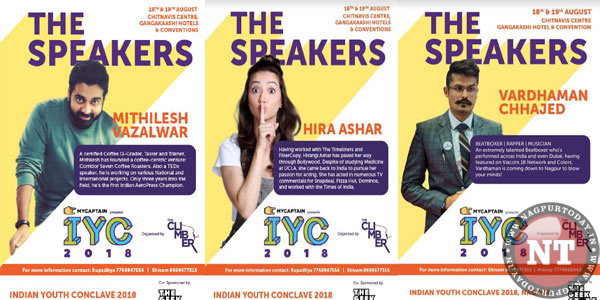 Indian Youth Conclave the Central India's Largest Youthfest which celebrates being young and passionate is back again with yet another event IYC 3.0 2018 on August 18 and 19 at Chitnavis Center and Gangakshi hotel and convention, Nagpur.
IYC brings together TEDx speakers, YouTube Fanfest Performers, Entrepreneurs, Writers, Poets, Artists, Musicians, Geek who have taken the country by storm.
IYC will features 6 Tracks, 1000+ Delegates, 40+ Speakers, Workshops, Startup Expo, Live Performances, Music, Theater, Open Mics, and you.
Many speakers will be present in the two day Youth fest to share their life experiences and many more on this occasion.
Vardhaman Chhajed a Beatboxer, Rapper, Musician will perform LIVE and share his journey as a Musician at Indian Youth Conclave 3.0.
Mithilesh Vazalwar is one of the few certified Coffee Q-Graders, Roasters, Tasters and Trainers in India.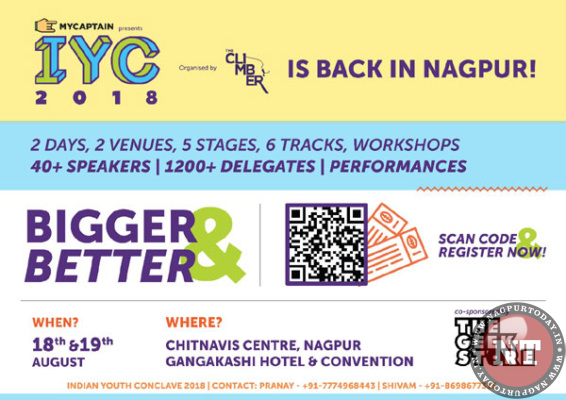 Hira Ashar, a leading YouTube star, who is well known for her work with The Timeliners and FilterCopy will be sharing the challenge she has faced along with her mantra of working hard, having compassion and being patient.
The Goodwill Tribe is group of young people who conduct community events worldwide. They've done vibrant things like storytelling, spoken word and music under the stars.
Dark Room Poets is a community that wants to celebrate the unheard and overshadowed poets, while catering young minds up their poetry game.
Catch them at Indian Youth Conclave 3.0 as they bring in a new genre called "Sonetry" (songs + poetry); and revive the lost art of "Dastaan – goi" (Urdu storytelling) all these on the August 18 and 19 at Nagpur. For registration contact here.