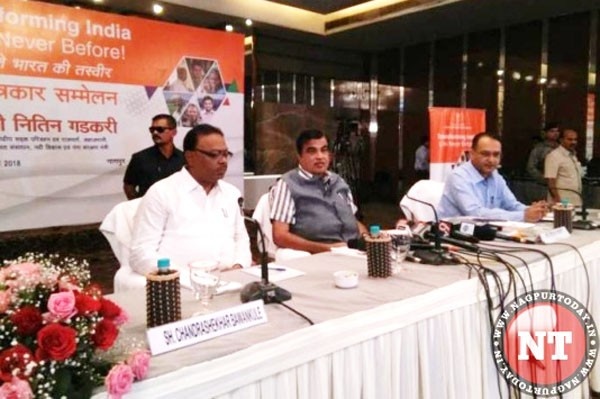 Nagpur: Union Minister for Road Transport and Highways, Water Resources and Ganga Rejuvenation Nitin Gadkari on Saturday declared that India has become growth engine and progressing by leaps and bounds.
Gadkari was addressing a press conference in the city to highlight achievements of four-years of Narendra Modi Government.
"Several welfare schemes for farmers were launched but still some problems persist. Even thought produce has increased manifold, proper rate is not being received. This anomaly affects international markets as well. The Opposition parties only see hike in fuel prices but conveniently turn blind eye towards stabilisation of prices of onion, edible oil, sugar and other essential items," Gadkari said while taking a dig at the Opposition parties.
The Union Minister said a number of development projects are being implemented in Nagpur city and district as well as across Maharashtra.
Highlights:
National Highway length in state up to 2014 was 5700 km
Total length added to NH network in last three years – 16,736 km
Increase in NH network – 300%
State Govt has taken lead in making the state railway crossing gate free.
Central Government has sanctioned total Rs 47,773 crore for development projects in Nagpur city and district.
Rs 6448 crore for flyovers and development of four-lane National Highway within city
Metro Rail – Rs 8680 crore
All India Institute of Medical Science (AIIMS), Nagpur – Rs 1577 crore
Deekshabhumi – Rs 10 crore
Buddhist Circuit scheme – Rs 100 crore
Development of accident-prone spots in city – Rs 7.10 crore
Drinking water pipeline laying and construction of 42 overhead water tanks – Rs 228 crore
Pune-based Symbosis Institute to set up Skill Development University with investment of Rs 300 crore
Sports Authority of India Ltd to set up centre in city – Rs 300 crore
New rail lines from city – Rs 6317 crore
Cancer Institute – Rs 128 crore
Waste-to-Energy project – Rs 221 crore
Cement road network under three-phase project – Rs 700 crore
Development of Pardi, Bharatwada, Punapur under Smart City project
Nag Nadi rejuvenation project – Rs 1500 crore
Works to be done by NHAI and MORTH in city and district – Rs 26,438 crore
National Institute of Pharmaceutical Education and Research to be set up
Composite Regional Centre for Persons with Disabilities set up
Total direct employment 13426 and indirect employment 75252 generated in various projects in MIHAN, Metro Project and MIDC Butibori.
In MIHAN, units of Air India's MRO, HCL Technology, Hexaware, Infosys, TAAL Manufacturing Ltd, Tata Consultancy Services, Reliance Aerospace, Lupin Pharma, Patanjali Food Park, Amezon, Ceat Tyres, and other renowned companies set up units with crores of investments and thousands of job opportunities.
The Union Minister Nitin Gadkari listed a host of achievements by his ministry.