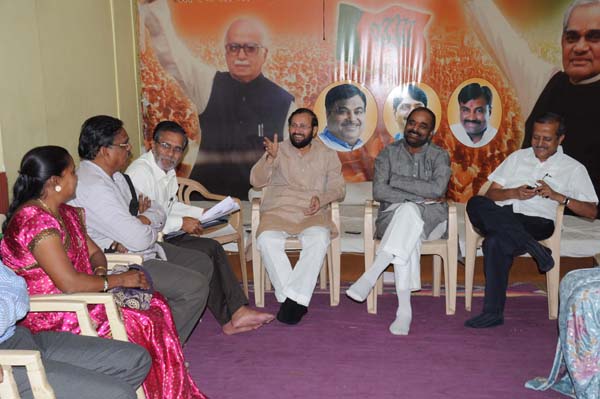 Nagpur News: The Bharatiya Janata Party (BJP) on Saturday lashed out at the Congress-led UPA Government for using the Central Bureau of Investigation (CBI) to garner the support of other political outfits.
"It has become very clear from what Mulayam Singh has been saying for the last two days that he disregards this government, but he even mentions the CBI.
This government is running on the crutches of the CBI," said BJP spokesperson Prakash Javadekar.
"The political parties supporting the government from outside make announcements of withdrawing their support, but later reverse their decision. But the cheap manner in which the Congress uses the CBI to gain political majority is the basis of the ruling party. So, in true sense, the CBI is its key ally," he added.
Javadekar further said corruption is at its height, and added that the government has to prove itself in front of the people.
Samajwadi Party (SP) supremo Mulayam Singh Yadav had earlier lashed out at the ruling Congress Party, thereby hinting that this outfit could possibly withdraw its support to the government in the coming days.
Yadav, however, made it clear yesterday that he has no plans now to withdraw support to the Congress-led UPA II Government at the Centre.
The Samajwadi Party chief had earlier evinced interest in forming a Third Front of political parties committed to change in Maharashtra, Bihar and Uttar Pradesh.
The Congress-led UPA Government has been in a minority since September last year when Mamata Banerjee pulled out her Trinamool Congress over the Centre's economic reforms, including opening the retail sector to foreign super-chains like Wal-Mart.
Earlier this month, M. Karunanidhi -led DMK also withdrew its support to the UPA over the issue of alleged human rights violations of Sri Lankan Tamils, and ruled out any reconsideration.
This move of the DMK has made the UPA Government vulnerable despite its assertions of having a parliamentary majority. The ruling coalition will now eye for support from the regional parties, which includes the Bahujan Samaj Party and the Samajwadi Party.
The Samajwadi Party provides outside support to the UPA.