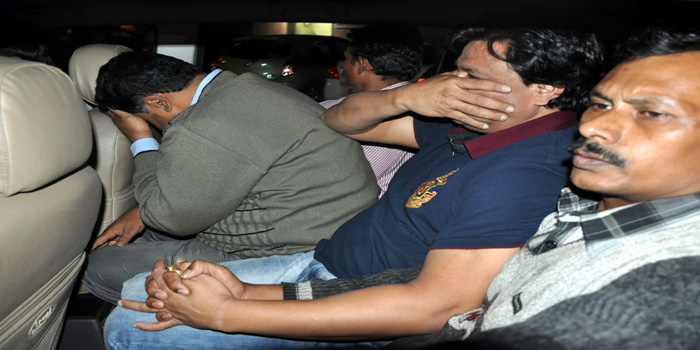 Nagpur News : In late Thurday Night action, CBI sleuths arrested 3 officers of the Indian railway while accepting the bribe.
As per the report,on the basis of complain  two team of CBI came into action and raided the famous Maharaja bag Club and caught red handed Sanjay Kumar and Sakeel Khan,both officers with Indian Railway accepting bribe of rupees two lakhs in full public view.
Another team raided the house of G S Yadav were they recoverd three lakhs rupees and some documents.
CBI sources informed that GS Yadav, senior divisional engineer (coordination), central railway, was caught taking bribe of Rs 3.53 lakh at his official bungalow at Civil Lines. Office superintendent Kumar Sanjay and head clerk Mohd Muzammil, alias Shakil were nabbed taking bribe of Rs 1 lakh each at Maharajbagh club. Three separate offences have been registered and searches have begun at different places. The action under superintendent of police, CBI, Sandeep Tamgadge were carried out by senior inspectors Pradeep Lande, Hemant Kharabe, KK Singh, Hanumant Jangid, sub-inspector Tarun Sinha and other officials.
It is learnt that the officials had been pressuring a private civil contractor Ritesh Surana for the bribes to clear his bill and also sanction a project. While an amount of Rs 15 crore is due to the contractor for works already done, another contract for supplying ballast for the tracks worth Rs 3.53 crore was on the verge of being awarded to him. Sources in CBI said that Surana was to sign an agreement with the railways for the new work. The officials were demanding bribes before the agreement could be signed.
The contractor approached CBI and the sleuths laid a trap. It is learnt that Muzammil, who had the membership of the private club, had asked Surana to pay money to him and his senior colleague there. The CBI squads have also initiated searches at the residence of Kumar at Ambazari layout and that of Muzammil at Nelson Square. Sources said another Rs 50,000/- was found on the person of Muzammil that he claimed to be his personal money.