Candidate Speak : AAP's Damania banks on anti-corruption drive against Gadkari to sail smooth in polls

Nagpur News : Anjali Damania, a pathologist by profession and Aam Aadmi Party candidate against BJP's Nitin Gadkari and Congress' Vilas Muttemwar from Nagpur Lok Sabha constituency, has been eyeing on polls with her anti-corruption drive against Gadkari. However, the air has not gained desired blow in favour of Damania, she is ambitious of taking opponents head on. Damania has her roots in Mumbai which is being seen as an odd factor for local voters to consider her credentials.
Damania has stirred up another controversy recently when she claimed an RSS candidate insisted her not to contest against Gadkari.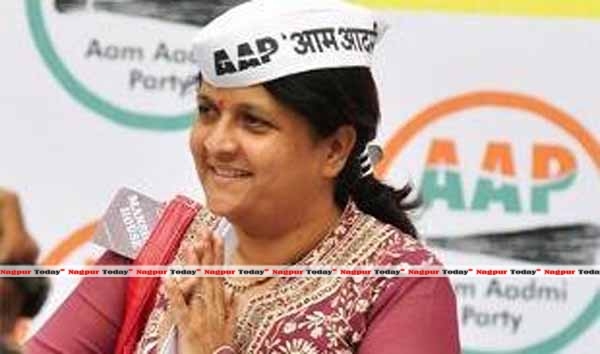 Damania hogged limelight when she came out in open to file RTI query related to the dam at Kondivade village of Raigarh district in Maharashtra. She owned a 30-acre farm in the Kondivade village of Raigad district. In 2011, the state government sent her a notice, stating that her land would be acquired for the construction of the Kondhane dam. In June 2011, she sent a letter to the Irrigation Department, asking for location of the dam as she wanted to check if her land would be submerged. She then went out of the country. When she returned in August, she found that the work on the dam had already started. She filed the RTI queries to know more about the project. Initially, she did not get any replies. After complaining to the Chief Information Commissioner (CIC), she received responses and found several irregularities. The irregularities were found to be part of the bigger Maharashtra Irrigation Scam exposed by Vijay Pandhare.
Allegations against Nitin Gadkari
In September 2012, Vijay Pandhare's letter detailing the Maharashtra Irrigation Scam was leaked to the media, leading to the resignation of irrigation minister Ajit Pawar (nephew of the Nationalist Congress Party chief Sharad Pawar). Subsequently, Anjali Damania claimed that she had met the Bharatiya Janata Party (BJP) President Nitin Gadkari two-three times in 2011 and once on 14 August 2012 – requesting him to pursue such cases in public interest. She alleged that Gadkari told her that he had a business relationship with Sharad Pawar, and therefore, he would not pursue the case. Gadkari rejected the allegations, saying that he had never met Damania, and sued her for defamation. The BJP denied any link between Gadkari and Pawar.
She also alleged that Gadkari tried to prevent the BJP leader Kirit Somaiya from filing a PIL against the scam. In October 2012, she told media that Gadkari had misused his political contacts to usurp agricultural land in Khursapur for his firm Purti Power and Sugar Ltd (PPSL). Subsequently, the income tax department raided Gadkari's companies and associated firms. Gadkari had to step down as the BJP President in January 2013, after several party leaders including Yashwant Sinha protested against him. In December 2013, Gadkari stated that no evidence of corruption had been found against him despite all the investigations and the media hype.Damania refused to back out from her charges against Gadkari.
:: Manohar Roy