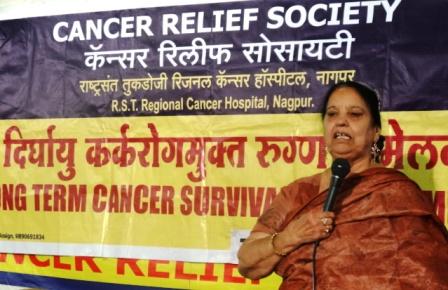 Nagpur News: Twelve long- term cancer survivors, having emerged hale and hearty after winning their battles against cancer over many long years, were invited by R.S.T Regional Cancer Hospital and Cancer Relief Society in the city to interact with relatives of present cancer patients, to mark Cancer Survival Day today.
The conversations and interviews, held at the Hospital premises, dealt little with the medical aspects of their experience, and more with the emotional weight that comes with it. The survivors had come from Akola, Nasik and some areas in Madhya Pradesh to the hospital where they had been treated, and spoke to an audience of about 300 people which included relatives, nurses and doctors.
The questions asked most were, "How did you feel when you found out?" and "How did you feel when you were cured?"  Most of the survivors said that they weren't scared, and merely geared to fight the battle and win it. Survivors who had struggled against breast cancer, cervical cancer, blood cancer for 5 years, 8 years and even for twelve years and emerged victorious , came up on stage to tell their tale and to reassure and support those in the audience who still watch their loved ones go through the struggle every day. To see a cancer survivor stand on stage in full health gave a major emotional boost to relatives sitting in the audience.
Another issue that came up was general ignorance of the fact the one of Maharashtra's two Regional Cancer Hospitals is located in Nagpur, the other one being Tata Memorial Hospital in Mumbai. A patient who went to Tata Memorial for treatment was told, "Why did you go through the long wait and travel all the way here, when your own city has a Regional Cancer Hospital?" Few in the city are aware of the fact, and approach private hospitals for treatment first.
The programme was attended by R.S.T Regional Cancer Hospital Director Dr. Shantanu Choudhury, Joint Director Dr. B.K. Sharma, Medical Superintendent Dr. Anjali Kola and Treasurer of Cancer Relief Society Yawatram Chawla.