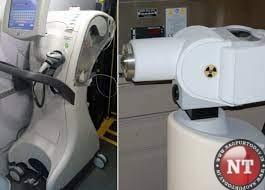 Nagpur: Cancer patients visiting Nagpur's Government Medical College and Hospital (GMCH) are being deprived of brachytherapy radiotherapy as the machine is non-functional since the past three years. This has led to around 15,000 cancer patients not receiving the life-saving treatment, a media report said.
Notably, the radiotherapy department of Nagpur GMCH received the Cobalt Unit in 2005 with the help of the Mining Ministry. At that time, the brachytherapy machine was also made available. Brachytherapy is a form of radiation therapy where a sealed radiation source is placed inside or next to the area requiring treatment.
A proposal to start a Cancer Institute at Nagpur GMCH was prepared 11 years ago. But the proposal has been gathering dust till to date. The brachytherapy machine has been 'dead' for more than three years. The GMCH administration is not taking any solid steps to rectify the machine. As a result, cancer patients are being deprived of the life-saving brachytherapy radiotherapy at the GMCH.