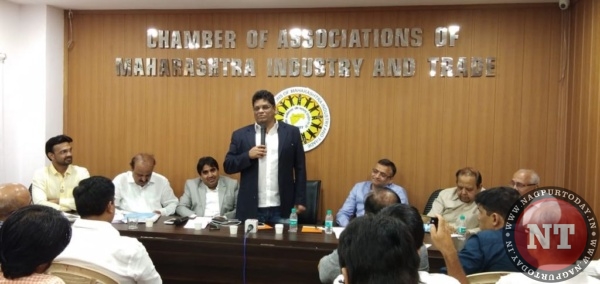 Nagpur: A State-level emergent meeting was called by Chamber of Associations of Maharashtra Industry & Trade ( CAMIT) at its office. The meeting was well attended by representatives from across the State. In the meeting, issues such as plastic ban and its implications of sale of Flipkart to Walmart was discussed at great length. Dipen Agrawal, President of CAMIT presided over the meeting.
Representatives present were of the opinion that the ban on plastic has been implemented without any proper planning by the Government.
There is no viable and durable alternate to plastic and the solution lies in proper collection, segregation, disposal and recycling of plastic. Failure of Corporation employees has led to plastic ban as a result common man and general public is being penalised. The timing of implementation of the ban is not good as it is peak Monsoon season. Harsh penalty and prosecution provisions is leading to harassment, extortion and corruption along with increase in Inspector Raj, traders alleged. The meeting took some of the decisions unanimously.
They include traders will agitate by following non-co-operation movement and accordingly not pay any penalty to corporations against ban of plastic and if any officer tries to impose penalty then fellow traders in large numbers will resist the imposition. It was further unanimously resolved to give a weeks time to the State Government to issue assured notification granting relief to traders and citizens against plastic ban and failing which traders will be forced to enforce State-wide agitation.Only the State Government would be held responsible for any such action by traders.
Implications of Walmart – Flipkart deal was discussed in detail and it was general opinion of all that back door entry to foreign multi-national companies (MNCs) should not be allowed in retail and it will lead to closure of small retail shops . It was unanimously decided to extend support to Confederation of All India Traders (CAIT) across the State in holding dharnas in protest of Walmart-Flipkart deal and foreign direct investment (FDI) in retail.
Notably present at the meeting were Walchand Sancheti, Pune, Raju Rathi, Solapur, Sameer Shah, Sangli, Praful Sancheti, Nasik, Ajay Shah and Jagannath Kale, Aurangabad, Pramod Joshi, Navi Mumbai, Gurmukh Lalji, Ulhasnagar. Raju Rathi, Senior Vice-President of Chamber of Associations of Maharashtra Industry & Trade conducted the proceedings and Ashok Bafna, Vice-President of CAMIT proposed the vote of thanks.