Nagpur: Cadence Academy, a leading institution in fashion and interior design education, is all set to mark its 23-year anniversary with an exciting celebration of talent and creativity. The academy will host two highly anticipated events, Ramp Inferno: The Fashion Show, and Peristyle: The Interior Design Exhibition, at the prestigious Vanamati Auditorium, located opposite Frakfinn on VIP Road on June 4.
Scheduled to begin at 3 pm, the event will offer an array of perspectives and innovative concepts brought to life on the runway.
Ramp Inferno, the annual fashion show organized by Cadence Academy, promises to be a mesmerizing showcase of the institute's fashion design students' hard work and innovative designs. The fashion show acts as a bridge between the academic and professional worlds, providing students with valuable exposure to the fashion industry. By presenting their meticulously crafted garments, the budding designers will demonstrate their understanding of fabric selection, color palettes, silhouettes, and other crucial elements of fashion design. This event will undoubtedly leave the audience in awe of the students' creativity, originality, and ability to translate their visions into tangible fashion pieces.
Moreover, Ramp Inferno not only celebrates the accomplishments of the students but also generates excitement, publicity, and exposure for Cadence Academy of Design. It serves as a powerful marketing tool, attracting aspiring fashion designers and reaffirming the institute's reputation as a leading institution in fashion design education. Additionally, the event provides a networking platform for students, industry professionals, fashion enthusiasts, and potential employers, fostering collaboration and interaction within the fashion community.
Simultaneously, the academy will host Peristyle, the Interior Design Exhibition, offering visitors a glimpse into the creative and visionary world of interior design students. Showcasing their talents and learnings, students will present meticulously crafted miniature interior models, design plans, sketches, and decorative pieces. The exhibition serves as a creative playground, highlighting the students' ability to transform spaces and create aesthetically pleasing environments through space planning, color palettes, furniture selection, lighting concepts, and more. It is an excellent opportunity for students to gain recognition for their hard work and receive valuable feedback from industry professionals, faculty members, and peers.
The Peristyle exhibition not only provides a platform for interior design students to display their skills but also offers a valuable learning experience. Engaging with industry experts, peers, and visitors enables students to explore emerging trends, gain insights from experienced professionals, and broaden their understanding of the interior design industry. Participating in this exhibition is a stepping stone toward their future careers and empowers the next generation of interior designers.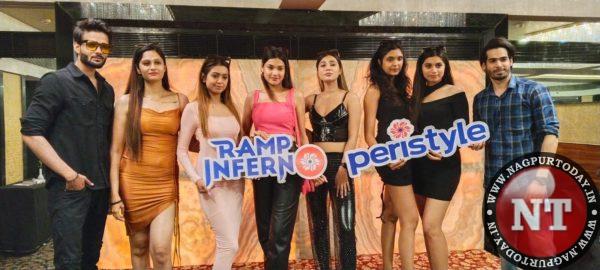 The joint celebration of Ramp Inferno: The Fashion Show and Peristyle: The Interior Design Exhibition on Cadence Academy's 23-year anniversary promises to be a visual treat for all attendees. The event will inspire and encourage young fashion and interior design enthusiasts, while also promoting the academy's commitment to nurturing and developing talent in these fields.
For more information and to witness the creativity and talent firsthand, join Cadence Academy of Design at Vanamati Auditorium on June 4, starting from 3 pm onwards. Don't miss the opportunity to be a part of this grand celebration of fashion and interior design excellence.