Buyer-Seller Meet of Handicraft Power-loom sector inaugurated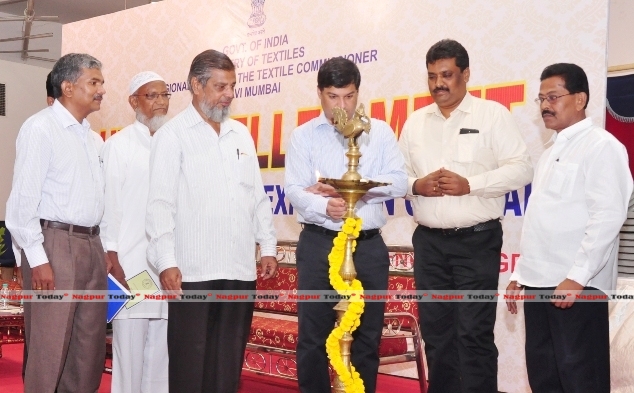 Nagpur: Govt. of India, Ministry of Textiles, Regional Office of the Textile Commissioner, Navi Mumbai in association with Powerloom Service Centre, Nagpur has organized a Buyer Seller Meet Fabric, Garments & Made Ups (Exhibition Cum Sale) at Ramgopal Maheshwari Sanskrutik Sabhagruh, Vidarbha Hindi Sahitya Sammelan, Hindi Mor Bhavan Rani Jhansi Square, Sitabuldi, Nagpur from 16/10/2015 to 19/10/2015. The meet will provide an opportunity to Powerloom Industry in the decentralised sector to market their fabric/products at regional and cluster level.
During the said exhibition cum sale, a wide latest range of textile products viz. dhothis, Saris, dress materials, shirting, suiting, bed sheets, towels, napkins etc from various parts of the country like Erode, Chennai, Karur, Tirupur, Hyderabad and Varanasi are on  display.
The above Buyer Seller Meet was inaugurated by Sachin Kurve, IAS, District Collector Nagpur, on 16.10.2015 at 10 a.m. He welcomed such initiative of the Office of the Textile Commissioner, Navi Mumbai and assured full-fledged support from the administration, Maharashtra government for such Meets. He also informed that a Common Facility Centre for the benefit of Garment units has been set up in Nagpur with facility for drying washing, pressing and designing of garments.
N.P. Yagalewad, Joint Director, Directorate of Textiles, Government of Maharashtra also graced the occasion.
It is expected that the BSM will be attended by large number of traders, retailers as well as consumers who on seeing the variety of products on display will be eager to purchase them. A cashless facility has also been provided to enable consumers to purchase the items.