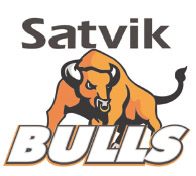 Nagpur sports News: Tajshree Indians' Nigerian striker Camara Mussa's goal in the dying minute gave thrilling 2-1 victory to Tajshree Indians in a crucial group two tie during Lokmat's Nagpur Premier League Football Tournament at Yashwant stadium on Tuesday.
Substitute Azhar's Sheikh's equalizer in the 85th minute rekindled some hopes for Satvik Bulls but then Camara struck in the dying minute and kept the hopes alive for Tajshree who were desperate for victory after losing back to back matches.
With this victory, Tajshree bounced back and opened their account with three point. However to stay in contention they must have to win their next match against HiTech Warriors on November 29.
On the other hand , Satvik have just three point after playing three matches. They will also have to win last match against Vatsalya Riders.
Earlier Tajshree stunned the rivals by scoring early goal in the very fourth minute. Camara Mussa headed the ball into the box on rebound in a goal mouth melee.
Surprised by early goals Satvik too launched the attacks in the rival citadel. James Effiong was the culprit for missing an open net. His powerful kick directly landed into the hands of rival goalie Mohammad Rizwan.
Then Camara missed two opportunities. First his attempt on corner kick was thwarted by Satvik defender and then in the 43rd minute he again missed the target. Satvik's Gulam Imran also wasted opportunity to level the score as his kick went above the target.
In the second half the spectators witnessed aggressive and speedy game from both the sides. Tajshree were unlucky by missing good opportunities. In the 50th minute Adil's free kick was saved by Satvik goalkeeper Mohammad Wasim. Satvik had a golden chance to level the score but Kailash Pardhi's shot dashed against cross bar on Hardik Kanojia's pass.
The bad luck for Tajshree continued as in the 75th minute Yasin Ansari's header off Adil Ansari was thwarted by Mohammad Waseem . Two minutes later substitute Khalid Ather too missed the target.
With just five minutes remaining Satvik substitute Azhar Sheikh levelled the score on the pass of Kailash Pardhi. But then in the dying minute, Camara denied them victory by scoring winning goal.
Camara was declared man-of-the-match while Hardik Kanojiawas declared best player from the losing side.