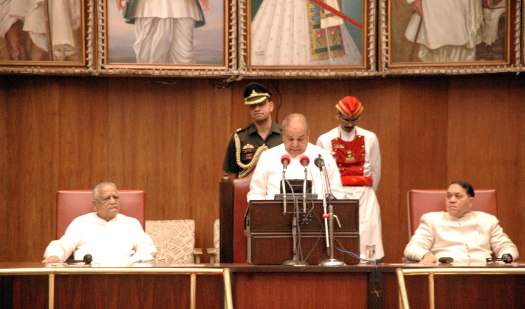 Governor of Maharastra, K. Sankaranarayanan gave budget session speech at Vidhan Bhavan, Mumbai at 11 am on 11th March 2013.
Budget speech by Governor —
MR. CHAIRMAN, MR. SPEAKER AND HON'BLE MEMBERS… 
I extend a warm welcome to all of you to the first Session of the State Legislature for the year 2013.
2.         The State is celebrating the Birth Centenary of the Architect of Modern Maharashtra and its first Chief Minister, Late Shri Yashwantraoji Chavan.  To commemorate his contribution to the State, my Government had organized various programmes. The State is also celebrating the Birth Centenary of Late Shri Vasantraoji Naik, the main Architect of Green Revolution in the State and who was instrumental in launching the Employment Guarantee Scheme and the Cotton Monopoly Purchase Scheme. Various   commemorative programmes have already been announced in this regard.
U.D.D.
3.         I am happy to inform this August House the consent of the Central Government to make available the Indu Mill No.6 land for construction of an International level "Memorial of Bharat Ratna Dr.Babasaheb Ambedkar". The process of reservation of the land for the Memorial and modification of the Sanctioned Development Plan of Greater Mumbai is underway.  Shortly, the dream of nation to construct a grand National Memorial of Bharat Ratna  Dr. Babasaheb Ambedkar will come to reality. My Government has also decided to erect a grand Memorial of Rajarshi Shahu Maharaj in the premises of Shahu Mill atKolhapur.
R.& R.
4.         Failure of monsoon for second consecutive year has been a matter of deep concern for my Government. In February 2012, only 230 tankers were plying for supplying drinking water, while in the current year by the end of February, the same number is now nearly tenfold at 2136 tankers. Various schemes for supply of drinking water in the scarcity areas including supply through tankers in 1663 villages and 4490 hamlets have been implemented and during current financial year the State has so far spent Rs.414 crore on emergency measures to provide drinking water.
5.         Nearly 11,801 villages of the State are facing drought, some of them during second consecutive year resulting into acute shortage of fodder.  The Government has opened 554 cattle camps to provide fodder and at present more than 4.5 lakh animals are in such camps.  During current financial year the State has so far spent Rs.749 crore for fodder. Labour attendance on relief works is as high as 2 lakh. My Government is fully committed to take additional measures for tackling scarcity situation.
6.         Jat and Aatpadi Talukas have been facing acute drinking water scarcity. To overcome this situation Government has taken vital decision to provide water from Mhaisal and Tembhu lift irrigation schemes, through canal. Similarly, a decision to pay the bills of Takari,  Mhaisal, Tembhu, Purandar, Urmodi, Janai-Sirsai and Mukatainagar lift irrigation schemes from the scarcity relief funds has been taken, this will ensure continuous supply of water to these areas.
Agriculture
7.         To mitigate the drought situation, the Government has taken up a massive programme of fodder development with an outlay of nearly Rs.95 crore under various schemes.  More than 3 lakh hectare area has been brought under fodder crops.  Estimated production is 60 lakh tonnes of green fodder in drought affected areas during Kharif, Rabbi and Summer season.
8.         To mitigate the impact of drought and to give higher compensation and financial help to farmers 'National Agriculture Insurance Scheme' (NAIS) is being implemented. In Rabbi season of 2012-13 the Government has increased indemnity level from 60% to 80% for all major crops. It is expected that the State would have highest coverage of Rabbi crop area this year and record number of farmers would get the benefit of the insurance.
Co-operation
9.           For satisfying increasing demand of crop loans, during the last Kharif season, the Banks in the State have provided crop loan of Rs. 19,243 crore to the farmers. Government has decided to reschedule these loans in drought affected villages having paisewari less than 50, before they become overdue. My Government has resolved to provide crop loans to farmers upto Rs.1 lakh without interest and crop loan upto 3 lakh at the rate of 2% per annum.
E.G.S.
10. Providing work to the unskilled labourers in rural areas is another challenge facing my Government during the drought. In 2012-13, expenditure incurred so far is over Rs. 1700 crore and person days created are 700 lakh. Due to sustained efforts of my Government, the Central Government will be providing cost of employment upto 150 days instead of 100 days per household in 123 drought affected Talukas. I am happy to say that the Government has increased the cost of wells under Mahatma Gandhi National Rural Employment Guarantee Scheme (MGNREGS) from Rs. 2 lakh to Rs. 3 lakh taking into consideration the increase in wage rate and cost of material.
SOIL & WATER CONSERVATION
11.         To mitigate the water scarcity situation in those talukas where ground water level has depleted by 2 meters or more, the Government has announced a programme of constructing Cement Nalla Bandhs in series. Rs. 150 crore are made available for this programme. 682 Cement Nalla Bandhs are already completed and the work of 683 is in progress.
12.         The     Central Government has launched a five year 'Vidarbha Intensive Irrigation Development Programme' with an outlay of Rs. 3250 crore for improving crop productivity in 8 Districts of Vidarbha. Under this programme an expenditure of Rs.75 crore has been incurred on agriculture and soil conservation activities.
Water Supply & Sanitation
13.       In order to avoid disconnection of electric supply of Rural Individual Water Supply Scheme due to non-payment of electric bill in the scarcity villages having paisevari less than 50, my Government has taken a decision to pay 67% of current electricity bill of such Gram Panchayat which pays balance 33% amount. Special assistance as and when required has been provided to complete urban pipe water supply schemes or to secure their hassle free operation.
Agriculture
14.       To achieve 4% growth rate in Agriculture and allied sectors 'Rashtriya Krishi Vikas Yojana' (RKVY) was prioritised by my Government during the year 2012-13 to provide more than Rs.850 crore for drought mitigation measures, out of Rs.1100 crore likely to be made available under the Scheme.
15.          With the help and active participation of Public Private Partnership (PPP), 12 schemes were implemented in the State under RKVY to connect more than 1 lakh farmers and 1 lakh hectare area to the markets.
16.       In order to make available drip irrigation sets to the farmers at reasonable prices, a process was initiated to fix rates for drip irrigation sets considering fixed technical norms. The outlay of more than Rs.675 crore was made available by Central and State Government to cover more than 2 lakh hectare area under drip and sprinkler.
17.          To bring sustainability in production in dry land farming and to complete this work as aMission, a committee is established under the chairmanship of the Minister for Agriculture and Marketing. An amount of Rs. 100 crore is made available during the year for this purpose.
Co-operation
18. Year 2012 has been declared by UNO as "International Co-operative Year". The event has created a positive environment to promote further the Co-operative movement in the State.
19.       On the occasion of Birth Centenary Year of Late Shri Yashwantraoji Chavan and celebration of International Co-operative Year, 27 best Co-operative Societies in Maharashtra were honoured as "Sahakar Maharshi", "Sahakar Bhushan" and "Sahakar Nishtha" during the year. 
20.          Provisions of 97th Amendment of Constitution introduced reforms in co-operative sector, it is certainly a welcome step. I urge upon the Hon'ble Members to actively participate in the discussion on the Ordinance promulgated to implement the Constitution Amendment.
Marketing
21.         To ease the impact of drought, a massive programme of procurement at Minimum Support Price (MSP) of Udid, Tur, Paddy and Jawar is undertaken and nearly 15 lakh quintal of such produce has been procured which has helped to get the prices stabilised above MSP in the State.
22.         The Government intends to provide necessary marketing infrastructure using externally aided projects in next few years.  More than 50 such facilities at an investment of Rs.250 crore would be ready for the farmers to market their produce.
                                                            Textile
23.         My Government has announced a new Textile Policy. 312 projects are already sanctioned in the State under the Policy. Total investment in these projects is expected to be Rs. 2700 crore and likely to generate 21,000 new employments.
A.D.F.
24. To increase the milk productivity of cows and buffaloes in the State, the Government has sanctioned a comprehensive hereditary improvement programme. To disseminate the latest information regarding animal husbandry practices to farmers, a new scheme of Animal Husbandry Extension is also implemented through publicity and propaganda. To develop cold-chain at primary milk society at village level and to increase the processing and handling capacity at milk unions and its apex body the programme costing Rs. 178.47 crore has been sanctioned out of which an amount of Rs.110.47 crore has been made available. With an object to enhance fish productivity, a project for Fish Culture in Cages under National Mission for Protein Supplement has been started at Wardha, Ahmednagar and Satara.
WATER RESOURCES DEPT.
25.          During the drought year, importance of creation of new irrigation potential is quite obvious. In 2011-12 an irrigation potential of 1.08 lakh  hectare was created. Though the available live storage in the reservoir was less by 319 metric cubic metre in 2011-12 as compared to 2010-11, the actual irrigated area is increased by 2.97 lakh hectare, due to effective management.  The Lake tap in the Reservoir of Koyana Hydro Project Stage IV was performed on 25th April, 2012.  This has to some extent also helped to cater power demand in the State.  
FOOD AND CIVIL SUPPLIES
26.          An efficient 'Public Distribution System' (PDS) for food and civil supplies is a need of the hour. To achieve this aim, end to end computerization of Targetted PDS operations has been taken up in the State. An independent portal having an inbuilt PDS Grievance Redress Module and a PDS helpline-toll free number is made operational from 1st May, 2012. The Short Message Services (SMS) gateway has also been designed and made operational from 1st July, 2012.
27.          For greater availability for PDS foodgrains, it is proposed to construct godowns of 6 lakh metric tonne capacity in the State with financial assistance of NABARD-RIDF.   
PUBLIC HEALTH
 28.         I am happy to mention that Palghar in Thane District received the distinction of National Launch of the Rashtriya Bal Swasthya Karyakram on 6th February 2013 envisaged to extend the School Health Programme to cover all children of the State from 0 to 18 years. 1.95 crore children in 0 to 18 age group will be covered for comprehensive health check-ups under this Scheme.
29.          My Government is successfully implementing the Rajiv Gandhi Jeevandayi Arogya Yojana (RGJAY) intended to give proper treatment to the low income persons through an insurance linked scheme in the 8 Districts of the State. Under this Scheme so far more than 40,000 surgeries have been performed. The Government will extend this extremely popular and beneficial scheme to the remaining Districts, shortly.
30.          Under the Pre-conception and Pre-natal Diagnostic Techniques (Prohibition of Sex Selection) Act, a programme of crash inspections of Sonography and Medical Termination of Pregnancy Centres was organized by the Government. Till date about 400 criminal cases have been lodged and 49 persons have been punished with fines as well as 33 doctors were punished with imprisonment.
31.          The Government has approved the Master Plan for new health institutions taking into consideration the population and distance norms.   This Master Plan envisages creation of 1259 health institutions and up-gradation of 57 existing institutions.
Medical Education and Drugs Department
32.          The Government has decided to establish 3 Government Medical Colleges at Gondia, Chandrapur and Baramati in Pune District each with an intake capacity of 100 seats.
33.          Studies have revealed that out of every 100 patients suffering from oral cancer, more than 70 were habitual of chewing Gutkha and Pan Masala. My Government has therefore taken a crucial decision to prohibit manufacturing, storage, distribution and sale of Gutkha and Pan Masala in the State.
School Education
34.          Government has decided to issue ADHAR cards to nearly 1.80 crore students and 5 lakh teachers and non-teaching staff from about 1 lakh schools.   A  decision has also been taken to give non-salaried grant to private primary, secondary and higher secondary schools from 1st April, 2013. A computerized system called 'Shalarth' has been introduced for making online payment of salary and allowances to teachers and non-teaching staff.
35.          For giving boost to the sports culture of the State, the Government has approved a Sports Policy.  The State Youth Policy has also been approved for all-round development of the youth population in the State.
HIGHER AND TECHNICAL EDUCATION
36.          To increase the participation of aspirants from the State in civil services, 4 Pre. I.A.S. institutes at Mumbai,Nagpur,Kolhapur andAurangabad have been established and a decision has also been taken to establish such 2 new institutes at Nashik andAmravati.
37.          Government has already started hostels in 11 districts for Economically Backward students.  Now, the Government has decided to start such hostels in all the Districts of the State. In an endeavour to provide safe and assured place of residence for girls seeking higher education, my Government has decided to establish 14 new hostels with intake capacity of 2250.
RURAL DEVELOPMENT DEPT.
38.          The Central Government has introduced a Devolution Index under 'Panchayat Empowerment and Accountability Incentive Scheme' (PEAIS) to evaluate all the States on the basis of devolution. I am happy to state that Central Government has conferred onMaharashtra the first prize in Incremental Devolution and third prize in Cumulative Devolution for the year 2011-12 and a token amount of Rs.2 crore is received by the State as a reward.
Water Supply & Sanitation
39.          I am happy to mention that, the Maharashtra continues to lead the programme of sanitation in the country. Out of total 28,002 'Nirmal Gram Awards' given in the country to the Panchayats under the total sanitation campaign, 9,523 Gram Panchayats and 11 Panchayat  Samitis are fromMaharashtra alone.
RURAL DEVELOPMENT DEPT.
40. Government had launched an innovative 'Eco-friendly Village Development Programme' for creating quality physical infrastructure in villages. Under this Programme, 9802 Village Panchayats have fulfilled the criteria and an amount of Rs.300 crore has been released to the concerned Village Panchayats for the year 2011-12.
41.          I am happy to state that, in the year 2011-12, Maharashtra has won  National  level  first  prize  of  Rs.50  lakh  for  the  successful  roll  out  of e-Panchayat of Bharat Nirman Programme.
TRIBAL DEVELOPMENT DEPT.
42.          Five new Integrated Tribal Development Project offices at Bhandara, Dhule, Solapur, Kalamnuri in Hingoli District and Pusad in Yawatmal District have been created to provide the Tribals easy access to project offices through which they can take advantage of various welfare schemes available for them. To promote welfare of Scheduled Tribes in Scheduled Areas, a Tribal Cell has been established at Raj Bhavan which will implement various pilot projects in such areas.
Social Justice and Special Assistance Department
43.          Under the 'Aam Admi Vima Yojna', along with an insurance coverage to  landless labourers in rural areas, a scholarship to 2 children, studying in IXth to XIIth Standard is provided. At present 33 lakh beneficiaries are covered under this Scheme.
44.          The State sponsored 'Sanjay Gandhi Niradhar Anudan Yojna', 'Shravanbal Seva Rajya Nivrutti Vetan Yojana' and centrally sponsored 'Indira Gandhi Widow Pension Scheme' and 'Indira Gandhi Disability Pension Scheme' launched to ameliorate the conditions of destitute are widely implemented in the State. At present, around 19 lakh beneficiaries are covered under these Schemes.
45.          In 2008, the Government has started 'Gharkul" Scheme to provide Pucca Houses to persons belonging to Scheduled Caste and Nav-Buddhas from Rural and Urban areas. Under this Scheme during period of 2008-13, total 1,28,495 as such houses have been constructed and construction of 69,361 houses is in progress. In the financial year of 2012-13 a budgetary provision of Rs. 31,875 lakh is made available.
46.          Under Post-matric Scholarship and Free ship to Schedule Caste, V.J.N.T., S.B.C. and O.B.C. students, in 2012-13 the total amount of Rs. 1581 crore is distributed through e-payment system.
WOMEN & CHILD DEVELOPMENT
47.          Violence against women has once again come on centre stage due to unfortunate incidence in last December in the National capital. My Government has always been at the forefront to provide an atmosphere in the State, where  women can move without fear. To guide and help women victims, 39 counselling centres were already working in the State. New 51 counselling centres in the Police Station premises are sanctioned. Apart from that, proposal to give sanction to new 54 counselling centres is under process.
48.          With a view to provide common platform to women to address their problems, protect their rights, solve their grievances and provide necessary guidance through Government system 'Mahila Lokshahi Din' is being implemented at Division, District and Taluka level in the State.
49.          Several measures to take greater care of children have been initiated. A decision has been taken to certify orphans in child institutions and under 'Karmaveer Bhaurao Patil Swavlambi Punarvasan Yojana' to rehabilitate inmates of after care homes. To give exposure to hidden talent of orphan and destitute children in the Government and non-Government institutions and to develop a sense of brotherhood amongst them, a decision has been taken to organise 'Chacha Nehru Bal Melava' each year.
50.          The findings of the first Independent Nutrition Survey conducted for the period 2004 to 2012 for children under 2 years of age inMaharashtra with collaboration of UNICEF and IIPS are very encouraging and demonstrate a remarkable reduction in malnutrition. Under-weight (weight-for-age) is reduced to 21.8% in 2012 in comparison with 29.6% in 2005-06.
51.          'Rajmata Jijau Ani Krantijyoti Savitribai Phule Janiv Jagruti Abhiyan' was launched in January this year.  The main purpose of this campaign is to spread awareness about various issues related to women and child development. By giving skill based training to women as per their needs and likes, empowerment of women can be achieved. To achieve this goal a new scheme for empowerment of women through training by Mahila Aarthik Vikas Mah-mandal (MAVIM) to Self Help Group (SHG) has been introduced in March 2012.
Minorities Dept.
52.          With a view to improve the representation of minority candidates in Government services, Pre-Recruitment Police Examination Training, Civil Services Pre Examination Guidance Centres and Marathi Language Foundation Courses are being conducted. An outlay of Rs.275 crore has been sanctioned for the year 2012-13 to implement various welfare schemes for minorities. The Maulana Azad Minorities Financial Development Corporation is also being empowered financially by increasing its paid up capital to Rs.250 crore.          Government has provided a Haj house atNagpur and very soon a new Haj house atAurangabad will be constructed.
Urban Development Department
53. Government has decided to introduce Naka-less and account based Local Body Tax (LBT) in place of Octroi in view of great inconvenience being caused to Traders and Entrepreneurs at Octroi Naka, saving of fuel and time and damage to goods. LBT has already been notified in 20 Municipal Corporations and decided to notify in remaining 6 Municipal Corporations of the State including Municipal Corporation of Greater Mumbai in the year 2013-14.
Information Technology
54.          Let me now turn to some of the initiatives taken for providing good governance.  As a part of providing seamless Government to citizen services, more than 35,000 Citizen Service Centres (CSC) are so far set up in the State.  Short Message Sending (SMS) gateway is established by Mahaonline and more than 20 Departments are using this facility.
55.          An online e-governance training and certification programme is also introduced. A Center for Excellence has been set up with the assistance of C-DAC for the development of marathi font, tools, training, and support.Maharashtra is leading in Unique Identification Number (UID) (ADHAR) enrollement. UID linked service delivery is initiated in some of the Districts of the State.
56.          The concept of e-office is being implemented in all the Departments and accordingly the project of creating software, e-mails and digital signatures of employees is in progress. The training in e-office is also being given to employees. Sindhudurg District has received the distinction of being first e-office District in the State.
Revenue
57.          Under the 'Suvarna Jayanti Rajaswa Abhiyan', my Government has undertaken several initiatives to make administration transparent, people friendly and expeditious.  Government has decided to encourage camps which provide for convergence of various schemes at one place.
58.          Khandkari farmers were agitating since five decades for their rightful claim over the lands. My Government has laid down policy and started conferring land titles on them. Under this policy, nearly 25,800 acre land will be returned to the Khandkari farmers. Similar was the case of occupants holding Nazul lands in Vidarbha Region. A programme for conferring Bhumi Swami right upon the land holding farmers in Vidarbha Region is undertaken and receiving good response.
59.          Government is deploying various information technology tools to improve upon the revenue administration. E-district, e-Seva Kendra, e-Lokshahi, e-tendering, e-measurement, e-mutation, e-nakasha, e-Chavdi are few such initiatives.    
60.          With a view to ensure better services to general public in the State and in order to facilitate quick registration of documents, my Government has decided to register certain documents by electronic mode, with effect from 1st April 2013.
Law and Judiciary Department
61.          I am happy to inform this August House that, by adopting various initiatives to reduce pendency of cases in subordinate courts, the number of  41.35 lakh cases pending by the end of June 2010 has been successfully reduced to 29.77 lakh by the end of December 2012. Special efforts are being taken for speedy disposal of cases relating to atrocities against women, Scheduled Castes and Scheduled Tribes.
62.  Government has adopted conscious efforts to improve infrastructure facilities in all subordinate courts of the State.  The records of the offices of the Charity Commissioner and the Registrar of Partnership Firms are being digitalized.
P.W.D.
63.          Under four-laning of important National Highways, another 501 kilometres is proposed for four-laning.  Through privatization, 18 projects comprising improvements of 1484 kilometres road length costing Rs.5842 crore are newly approved. An additional outlay is proposed for Viability Gap Funding.   
Industries
64. My Government has recently announced Industrial Policy 2013, which focuses on generating employment and promotion of balanced regional development. This policy is likely to attract an investment of Rs. 5 lakh crore and generate 20 lakh new employment opportunities in next five years.
65.          Under the Mega Project Policy, in the last year my Government has approved 54 Mega Projects alongwith increase in level of investment in 6 Mega Projects with an aggregate assured investment of Rs.42,000 crore and generation of 30,000 employment opportunities.
66.          Leveraging the Delhi-Mumbai Industrial Corridor (DMIC), the State Government will strategically create the secondary growth corridors along National Major State Highways.  A band of 150 kilometres on either side of the freight corridors has been identified as the Influence Region for industrial development.
67.          Through the Package Scheme of Incentives the Government will provide basket of fiscal support in the initial stage of industrial operations. With rapid increase in the cost of land, entrepreneurs of small enterprises are finding it difficult to obtain land for their ventures. In view of this to provide space for Micro, Small and Medium Projects, flatted structures will be constructed in MIDC areas.  One of the major constraints faced by the manufacturing sector is non-availability of skilled manpower. The Government has also decided to strengthen the Maharashtra Centre for Entrepreneurship Development (MCED) to play a vital role in the training needs of industry.
68.          Organisation of 'Advantage Vidarbha' (Investment Meet) in February 2013, first time in the State, has facilitated execution of Memorandum of Understanding (MOU) to the tune of Rs. 18,500 crore and also attracted huge fresh investment for the industrial development of Vidarbha.
Employment and Self-Employment
69.          Government is developing a web portal through Comprehensive e-Governance Project for easy, fruitful, effective and transparent delivery of employment services.   This portal will facilitate seamless on-line registration of candidates, employers and skill development training institutes.
Labour
70.          TheMaharashtraBuilding and Other Constructions Workers Welfare Board has been reconstituted and a cess amounting Rs.979 crore has been collected by the Board. About 1 lakh building and other construction workers are registered with the Board.  This Board has formulated and implemented various welfare schemes for the building and other construction workers.
Energy
71.          My government has met 96% energy demand of State. 82% of State has become free from load shading by December, 2012. MAHAGENCO has commissioned two units of 500 MW each at Bhusawal which will produce  additional 1000 MW power for the State.  Work is in full swing at Chandrapur, Koradi and Parali power projects. 5MW solar project is successfully commissioned at Chandrapur. MAHAGENCO is in a process to install total 150 MW solar power projects at Sakri in Dhule district which is expected to be operational this year. This will be the largest solar energy park project inAsia.
Housing
72.          The process to enact a new law to ensure regulated and planned development as well as to protect the interest of flat owners in the State is in progress. For speedy implementation of Deemed Conveyance to confer upon the Co-operative Housing Societies right and title of land aSpecial Drive is organized.
73.          Under the policy of the Government to provide housing units to ex-textile workers, the Mumbai Housing and Area Development Board, Mumbai has decided to provide 6925 tenements to affected Textile Mill workers. Handing over the tenements to the 24 Textile Mill workers on the Republic Day is the beginning of this process.
Environment
74.          Government has decided to establish 'District Level Environment Information Centre', initially in each Division.   District level and State level Environment Status Report will be prepared and updated after every 3 years. This step will be useful in planning of the various schemes with due consideration of environmental issues.
75.          The Central Government had constituted the Western Ghat Ecology Expert Panel under the chairmanship of Professor Madhav Gadgil.  The Panel had submitted its report to High Level Expert Group. The Expert Group has high level discussions and a visit to Ratnagiri and Sindudurg Districts in February, 2013, to comprehend issues ofMaharashtra.
Forest
76.          To increase forest cover to attain 33% of geographical area in phased manner, the programme of plantation of 100 crore trees in 5 year plan has been launched. Under this scheme 15 crore trees have been planted in 2012.  Further 20 crore trees will be planted in the year 2013.
77.          For reducing dependence of forest dwellers on tree felling, a programme was launched to provide Bio Gas or Cooking Gas to villagers. A Scheme to provide grants for supply of productive breeds of cattle and incentives for conservation and protection of trees now has been launched. Nearly 18000 families across the State will be benefitted under this Scheme.
78.          The Government has launched a policy to voluntarily rehabilitate the families habituated in the Wild Life Sanctuaries and National Parks.  Under this policy a lump-sum amount of Rs. 10 lakh to each such family or a piece of land and house with civic amenities is provided in the rehabilitated village.
79.          Inhabitation of Tigers in Melghat, Tadoba, Navegaon and Koyna Sanctuaries is safeguarded by rehabilitation of villages from these Sanctuaries and by formation of Special Tiger Protection Force.  The number of Tigers inMaharashtraState has gone up to 200 from 169. The work regarding international standard Zoo at Gorewada has been initiated to promote the Nature Tourism.
80.          A United Nations Development Plan (UNDP) sponsored project has been recently sanctioned in Sindhudurg District which will give a boost to tourism and sustainable fishery while conserving the biodiversity of the flora and fauna of coastal region.
Home
81.         Maharashtra is recognized as a progressive State in maintaining law and order.  For improving its efficiency further, my Government has increased the police strength by creating 55,105 posts during the last 5 years and creation of  further posts is proposed.  From safety point of view a decision has been taken to install C.C.T.V. Surveillance System in Mumbai and Pune.
82.          Under the Police Modernization Scheme in joint venture with the Central Government, Mega City Policing Programme forMumbaiCity is restarted from the year 2012-13.
83.          In the Naxal affected areas, security infrastructure development has been taken up with the help of the Central Government and State's own resources.  Electrification of 237 villages and tandas in Gadchiroli District is being completed on priority.
84.          With active participation of people, Government is implementing the 'Mahatma Gandhi Dispute-Free Village Scheme' in the State. In 2012, additional 2712 villages were declared as dispute-free villages.
Marathi Language
85.          With a view to inculcate the reading culture, my Government organized exhibition of books and sales, 'Granthotsav', in various districts of the State as well as atNew Delhi and Panji during December, 2012 to February, 2013. Rajya Marathi Vikas Sanstha has undertaken the project of creating Unicode Compliant Marathi Fonts, with the help of C-DAC, Pune which will be available soon.
86.          Government has prepared audio-books of 'Dasbodh' written by Saint Ramdas, "Krushnakath" an autobiography of Shri Yashwantraoji Chavan,  'Pravasi Pakshi' and 'Rasyatra' a collection of poems of Kasumagraj as well as 'Sanhita' and 'Aadimaya' a collection of poems of Vinda Karandikar.  All these audio-books are made available on Government website.
G. A. D.
87.          To resolve the long pending Maharashtra-Karnataka border dispute in the Supreme Court, eminent lawyers have been engaged to forcefully articulate the interest of the State. I reiterate my Government's commitment to resolve the dispute.
88.          Hon'ble Members, during the present Session, you will be considering the Supplementary Demands, the Budget for the year 2013-14, Vote on Account, the Bills and other Government and non-official business which may be brought before you for consideration. I wish your deliberations every success.
Jai Hind !  Jai Maharashtra !!