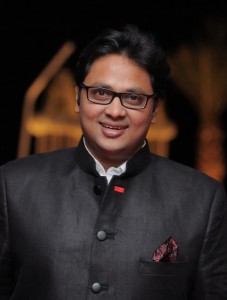 A man with an ambition, with a vision for a mission, a social worker who wants to continue the legacy of his family. Vishal Muttemwar is Nagpur today's Youth Icon.
Nagpur Today: Hello Vishal and Congratulation to be chosen as a Youth Icon.
Vishal Muttemwar: Thank you so much. Don't know what to say but Thank you & It's all my pleasure.
Nagpur Today: Describe yourself in few words.
Vishal Muttemwar: I am just a normal guy, I have my set of dreams, I have my set of strengths & weakness. And like any other normal person I have set goals for myself, I do love doing regular things watching movies, listening to music, reading books but I have dreams which can be described as extra ordinary.
Nagpur Today: How was your childhood?
Vishal Muttemwar: I was 4yrs of age when my father was elected as a member of parliament so I have grown seeing my father in political space, seen ups and downs in his political career; I have shared the glory he has achieved. To follow his footsteps happened much later because initially I had chosen something else. so it came late for me but this was always in my mind to help ,support and stand by people who are neglected ,well deserved and I have taken so much inspiration from my father so if can do a bit of what my father has done for the society it will be great .so working towards it.
Nagpur Today: Is it difficult to be a MP's son?
Vishal Muttemwar: I can't comment for others but I can speak for myself. I have always seen my father living a simple life. We have never considered to be something special, thankful to god and people restoring faith in us time and again, we have never taken us for granted, never took power to head, in politics what happens is that people will remember your work, people will not remember your whims and fancies so that is the "Mool Mantra" . So we live a simple life with friends and family . And we are proud of what we are and we feel that the kind of respect from people we cherish and value and that's what drives us to keep us on the right path .
Nagpur Today: Tell us you're routine.
I want to wake up early in morning and I am really trying hard for it, but then after doing work, i  like to spend time with family, with cousins and friends here. Then going out for movies, having dinner. So nothing special. But after work it's just friends & family.
Nagpur Today: Politicians have turned now to businessmen, educationists or bankers we haven't heard about anything of yours .So are you planning a university or a bank ?
Vishal Muttemwar: (laughs) hahaha!!! No university as such, not comparing with others everyone has their own way of living and earning we too have our own means to it but not at the cost of making a bad impression within our people. The path should be right, the work should be right, it should ethical and then a win win for everyone.
Nagpur Today: What are your views on a couple of points.
Nagpur Today: Farmer Suicide in Vidarbha
Vishal Muttemwar: It's a shame, now the measures have been taken the numbers have gone down but I think more agricultural facilities, credit provision, better agriculture methods & techniques, modern agriculture can help and it will go zero one day is what I want and pray.
Nagpur Today: Crime in Nagpur
Vishal Muttemwar: Shocking!!! To me it is a direct result of youth going directionless, and then these anti social elements who look for youth who are directionless or youth who need easy money, so then the youth too goes with the wind of earning easy money where they start with chain snatching and later bigger crimes but then the root of the cause should be treated well .The youth should get more education in terms of knowing which way to go. Police needs to do a better job in investigations. And then the fear from law and law machineries should take right measures and make such laws that people should think a hundred times before doing anything wrong.
Nagpur Today: Sachin Tendulkar's retirement
Vishal Muttemwar: Speechless!!! (Laugh) I almost got Lathi charge in Mumbai in 1996 when I was trying hard to get a ticket and then cried too when sachin couldn't make his hundred there so I think one day without sachin is boring !!!!
Salman & Shahrukh fight: No Not interested.
Nagpur Today: Let's have a rapid fire round.
Vishal Muttemwar: okay ready.
Mr. Vilas Muttemwar: father, great man. I love him.
Marriage: Its bliss, if done properly.
Music: Life
Wife: Life
Congress: I believe in their ideology
Favorite film: Shree 420
Favorite actor: Amitabh Bachchan
Favorite actress: they been changing yaa…Vidya Balan
Favorite book: Ayn rand books, Henry David Thoreau, Books on Gandhiji, Nehruji
Favorite Song: Phoolon ke rang se
Favorite color: blue
One film which inspired you: 3 Idiots
Nagpur Today: One thing you will like to share with the youth today.
Vishal Muttemwar: We are going through an interesting time ,a lot of change is happening around and then this change is shaping a youths life but then today everyone on a click of button can get to know well…by the help of internet youth can learn so much . Not just being getting a platform to express, or playing those no worth games. Youth today is far more aware and focused and also get opportunities but also in the same way puts a lot of pressure on them to perform to grow and then when they see their friends growing and they aren't they get upset and some of them do such things which are not right, I think the youth today should be patient, persistent and focus (PPF). And then they will see success is close for them.
Nagpur Today: Thank you & congratulations again to be a youth Icon
Vishal Muttemwar: Thank you!!!
: Yash Raj Trivedi