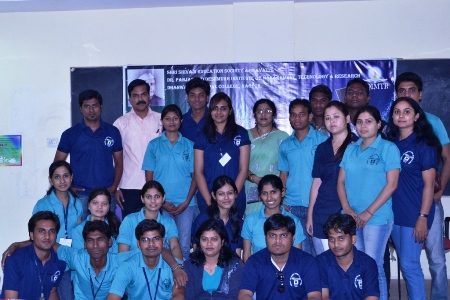 Nagpur News:
The Dynamic and budding Journalism students of Orange city had a gala time participating in 'Jazba' an Inter-college competition organized by Department of Mass communication, Dr Panjabrao Deshmukh institute of Management and Technology, at Dhanwate Nationa;College,Nagpur.
The Event saw students of Department mass communication,NagpurUniversity, Yashwantrao chavan open university and the host DNC college students participating in Debate, Poster making, writing and painting competitions.
These mass communication and Journalism students who are most of the time busy in their field and practical work explored their Passion in the competitions of 'Jazba'.
The main attraction of the event was RJ Hunt. Wherein Media Professionals  judged the participants performances. Tough competition was seen in the Debate round. The topic of the Debate was 'Youth participation in Politics' and seasoned debate contestant Renuka Deshpande of Dhanwate college bagged the first prize speaking  in favour of 'Participation of Youth in Politics.'
While speaking with 'NagpurToday' Renuka said, "Today's youth are more aware of the happenings and are technologically updated and they know their rights and they should come forward and enter into politics." She was very happy at winning the competition and the icing on the cake that too in her own college.
Sarita suryawanshi, Nitu Singh, Sumit Pakalwar , Shital kohle, Prachi ,Narendra sharma, Pawan Badodekar, Shiril Jhadav, Sneha Vyas students of Bachelor of Journalism, Nagpur University Campus, who took part in the quiz and other competitions said " It was good experience and also we got to know and make friendship with other students of our Journalism fraternity."
The Media Club of  Dhanwate college consisting of Media Club President, Surbhi Purohit,Pravin Patil, Asha saini, Rupali salunke, Amit Wandre, Manish aadhe ,Pawan welukar, Ranjita singh and all the students worked hard for the success of the event.