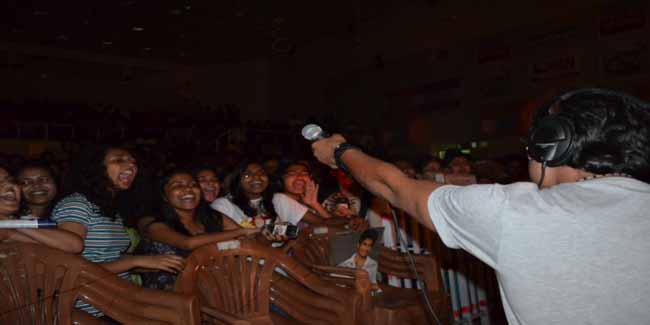 Nagpur News :
Aarohi – the most ambitious cultural annual fest at VNIT in Nagpur – starts with a bang on Saturday with young spirit flown freely over the series of mindblowers including music, dance, drama and comedy shows that electrified the day one. Being Central India's largest open cultural festival, students from all over India join this fest, not only for participation, but also to enjoy this grand venture. Was it less grand, the fact that this year Aarohi is celebrating its silver jubilee as well has added to its galore value.
The event started with the group of vocalists gathered for the singing contest called Swarmanzar. The initial round saw some hilarious moments with the singers vying to make it to the finals which saw loads of hummable melodies rendered out by the finalists.
The programme was then followed by the dramatics event named Abhivyakti which showed some of the towering stage performances the college youths. The street play Halla Bol turned out to be equally eye opener and fun filled. The performances highlighting some of the social issues caught the attention of everyone.
The debate competition then infused some intellect into the atmosphere and the participating students drew the distinct war of words to prove their point substantially.
Rhythm Divine – an instrumental performance further added some cool moments into the line of celebration.
Later, dose of excitement reached another level with A La Danse competition that derived groovy dance forms across various genres on the stage.
Renowned dance instructor Tiggi Peters having his expert stint in dance forms like jive, salsa, fusion and freestyle, along with dance experts Kavita Bhoyar and Amol Motewar played the versatile judges. Tiggi Peters rejoiced "This whole concept is exhilarating. I have been a part of this beautiful venture since a very long time."
Another judge Amol Motewar who has also been the part of this event for the last seven years in similar capacity quipped, "It's nice. The organizing team is creative and hard working and the audience is also very enthusiastic."
The third judge Kavita Bhoyar felt that change is the only constant with this do as she puts up, "Every year there is a change in the dance theme and that's what I like. The entire organizing team is fantastic."
RJ Ved kept the audience glued to every performance with his cheerful hosting. From bhangra to rock, hip hop to contemporary, audience were treated with all that forms exquisite dance platters.
A total of twelve dance performances happened in the finals, of which six were solo and six were group performances. Nikhil Bhaisare and Swapnil Bhaisare bagged the first and second position in solo while group dance saw Alaipayuthe dance group on top and dance group 911 on second.
On this silver jubilee, each day of Aarohi has its highlights, Avinash Agrawal, the stand up comedian being for 16th feb.
Simi Butt, student of Ramdeo Baba Engineering college played a versatile participant at the dance competition. She said, "The thing is really great. I am really happy that we made it to top 6. People are from different genre. I am very new but feeling very good."
Saurabh Zope from Enigma dance group said as the evening set in the event has gone to a different level. "Every passing year we are seeing Aarohi rising in terms of value and expansion. It is certainly central India's largest cultural fest," he said
Rubin Bisht, student of VNIT and a part of the hip-hop dance group 911 said, " After being winners at BITS ,Goa, this was the next most awaited event that we wouldn't have missed at any cost, its simply amazing!"
In the words of Prateek Murkute, the secretary of Aarohi, 2013 "around 10,000 foot-falls are being expected which would take it to an entirely new level. It will be bigger than ever" he added.
…. Ritu Walia