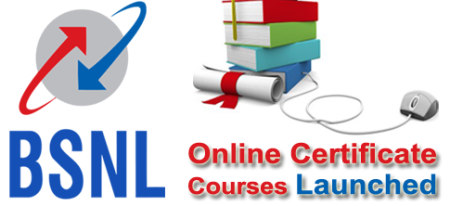 Nagpur News:
BSNL has launched a country wide online certificate programme especially designed for students to build career in Telecom& IT Industry. The first batch of the course was launched on Monday 25th Feb. Initially the launch will be across 17 cities in the country.
Regional Telecom Training Centre, RTTC, , Nagpur will also  be conducting the course at its centre in seminary hills. The courses offered are Digital Switching systems, Digital Transmission Systems, Broadband Technology, Optical Fiber Technology, Mobile Communications, IP, Networking Cyber Security and Telecom Support Infrastructure. Students Pursuing Engineering, science, Diploma, working professionals, faculty of engineering science and just anybody keen to learn technology can register for the course.
While Speaking with 'NagpurToday' Mr. H.D.Kulkarni, Divisional Engineer (TM),RTTC informed " The duration of each of the certificate programmes will be of 8 weeks, rich and structured on line study material will be available for self study. Practical field visit sessions with hands on training in the state- of- the –art labs/live working equipments in the field will be conducted in the course."
To launch this course countrywide Mr Manish shukla, Additional General Manager and Principal has taken initiatives. Certificates will be issued to successful candidates.
Mr. Nilesh Pillewar,Sub-Divisional Engineer, RTTC,  talking to 'NagpurToday said " the course is an initiative to bridge the gap between the academy and Telecom industry. A unique industry oriented academic programme."
Snehil Munghate,Telecom Professional, Pursuing certificate programme said," this course will give me exposure to latest technology in telecom sector and will enhance my practical knowledge hands on training in the state-of –the-art labs will help me in career prospects". He added.
For further details students can register themselves for the course on the website www. learntelecom.bsnl.co.in or contact Phone number: 0712-2511444.