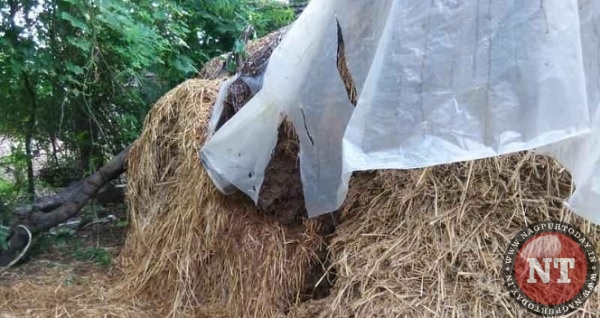 Nagpur/Chandrapur:A 2 year old boy from Chandrapur had to pay through his life, the cost of supertitious tendency of few sarcastic people. A decomposed body of the boy, identified as Yug Meshram was found dead at a hidden place in a neighbouring house in village in Chandrapur, eight days after he went missing. Shockingly, the murder turned out to be a result of some superstitious ritual in which the boy was allegedly sacrificed to recover hidden treasure.
The police have arrested two accused, Sunil Bankar and Pramod Bankar, for abducting and sacrificing the boy. Yug had gone missing on August 22 from outside his house at village Khandala in Bramhapuri tehsil while he was playing with his elder brother.
After a complaint by Yug's father Ashok Meshram, cops registered a case of abduction and launched intensive search operations. Bramhapuri police had released a poster seeking information about the missing Yug and also dispatched police teams to Nagpur, Wardha, Bhandara and Gadchiroli to search for him, without success.
Finally, Yug's body was recovered on Wednesday, hidden in the haystack of his neighbour Pramod Bankar's house, no more than 100 feet from Yug's house.
Pramod and another neighbour Sunil Bankar, who were already under suspicion for their activities in search of hidden treasure, were immediately taken into custody for questioning after recovery of the body. The accused duo confessed to their crime.
They had promised to give the boy a chocolate and taken him to a deserted location outside the village. The boy was sacrificed in their occult rituals in the wee hours of the same night, said SP Maheswar Reddy.
Reddy claimed that the accused duo had planned to dispose of the dead body by dumping it in Vainganga river.
However, day had broken by the time they accomplished their rituals and killed Yug by choking him to death. Fearing of getting caught, they brought Yug's body to the village and hid it in the haystack at Pramod Bankar's house. As police teams were camping in the village in search of the kid for the next seven days, they did not get a chance to remove the body for disposal in the river, Reddy said.
Cops have formally arrested the duo and booked them for murder and also under sections of Anti Superstition and Black Magic Act. The duo was produced before the Bramhapuri court and remanded to police custody for eight days, till September 6.
Meanwhile, advocates of the District Bar Council, and Bar Council of Bramhapuri have refused to take up the case of the two accused.