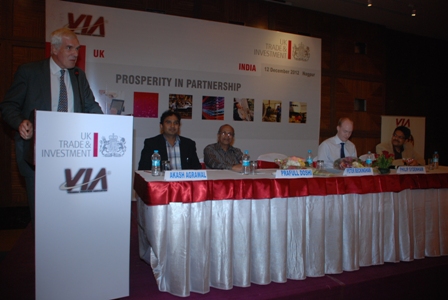 British Deputy High Commissioner, Mumbai and Vidarbha Industries Association, Nagpur jointly organised an interactive Business Session on 12.12.12 at Hotel Sun N Sand at 6:00 pm.
Peter Said :- Today, the world is changing all around us. And this multifaceted industry and fast changing world requires for a close partnership between countries. Globalization presents many challenges to our Region.
British Deputy High Commissioner, Peter Beckingham said that Nagpur is one of the important business centres for the UK. With FDI being allowed in retail, a project like MIHAN can be an ideal site for developing Logistics and warehousing hubs. The delegates said that British High Commission has launched an outreach programme to ring together, British and Indian Companies and entrepreneurs together for mutual trade and benefits. The delegates also appreciated Indian companies who have already invested and acquired some companies of UK.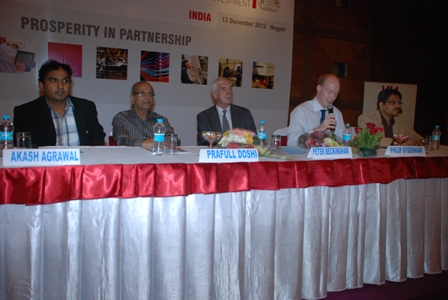 The delegates said British companies are exploring different opportunities in India and specifically wanted to explore different opportunities in Tier –II Cities like Nagpur. In the said Business interaction session the members of different associations and educational institutions had one to one talk and discussions with different sectors of delegates. The delegates and the invitees shared their ideas and views.
Further Peter Beckingham said there are many avenues available in UK. Logistics companies from UK are very keen to invest in Nagpur region because it is located in centre. He gave example of the company based in Northern Ireland named Serco is looking after business opportunities for Transport plan in Nagpur City.
This business interaction meeting was attended by VIA Members, different Associations of Vidarbhar region, Educational Institutions and the invitees from different sectors.
Prominent members and Industrialists who were present were Pravin Tapadia (IPP), Rohit Agrawal, Kush Bajaj, Gaurav Sarda, Aditya Saraf, Hardik Khakkar, Kishore Thutheja, Pankaj Bakshi, Hemant Ambaselkar, President (BMA).
Earlier Floral welcome of Peter Beckingham, Deputy High Commissioner, Mumbai and Philip Sydenham from British High Commission was done by Prafull Doshi, Presentation on Vidarbha was done by Shiv Kumar Rao, Akash Agrawal, Hon. Secretary VIA conducted the proceedings.