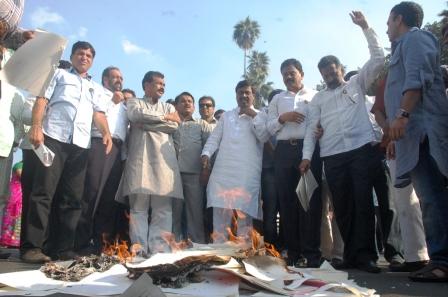 Nagpur News: The Opposition BJP-Shiv Sena appeared to be in no mood to relent as far its demand for SIT probe into irrigation probe goes, both inside and outside assembly.
While the leaders from both the parties resorted to unruly means in both the houses in Vidhan Bhawan on Thursday resulting in adjournment for most part of the day, Shiv Sena MLAs burnt the copies of white paper presented by the government on the irrigation scam at the main gate of the House.
The demonstration was done at the gates of Vidhan Bhavan, from where the Shiv Sainiks walked to their office premises inside, chanting loud slogans throughout. MLC (Member of Legislative Council) Ramdas Kadam and MLA (Member of Legislative Assembly) Adv. Ashish Jaiswal led the group.
The leaders alleged that the white paper was just an eye wash to cover up the scam and also the goof up regarding the re-induction of Ajit Pawar to the post of Deputy CM.
The agitating leaders led by Vinayak Raut also shouted anti-government slogans and pressed the need for SIT probe into irrigation scam.
The irrigation issue continues to rock both Houses of the State Legislature, with five different "papers" having been released by the government and opposition this month. Constant demands by the Opposition for an SIT probe has cost the House dearly, with not a single concrete decision having been made or any legislation having been passed in the first four days of the winter session.