Nagpur: A 40-year old brain dead hotelier's heart and liver have saved two lives after his family decided to donate them. Skin and cornea were also donated bringing cheers to the lives of two more persons.
Yet again a family from Nagpur who had witnessed the most difficult parting of their loved one have become the reason for rejoicing to 4 lives living in different parts of India. Amit Awasthi, a 40 year old hotelier from Nagpur, who was declared brain dead on October 29 evening at Wockhardt Hospitals, Nagpur, donated his Heart, Liver, Skin and Cornea the next day. His family collectively and proactively decided to donate Awasthi's organs once they got to know about his condition.
The heart was flown to AIIMS, New Delhi and Liver to a Hospital in Pune through a Green Corridor created from Wockhardt Hospitals, Shankar Nagar to the Airport in just 3 minutes 20 seconds. "We are doing this as a small share to this noble cause'' said Ravindra Pardesi, DCP who was responsible to successfully creating the green corridor yet again with a week's time. It is to be noted that just a week earlier a liver was transported through a green corridor to Mumbai from Wockhardt.
While the skin was retrieved by Dr. Sameer Jahagirdar and was taken to Rotary Skin Bank of the city, the cornea was taken to Madhav Netra Pedhi, Nagpur.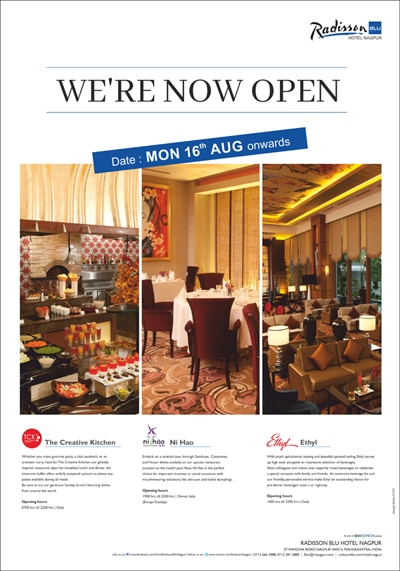 The heart was harvested by Dr. Sameet Pathak, CVTS surgeon, Wockhardt Hospitals and Dr Milind Hote, CVTS Surgeon, AIIMS, New Delhi and Dr. Awantika Jaiswal, Cardiac Anaesthetist, Wockhardt Hospital. The Liver and Heart retrieval started around 8.30 am on October 30. It took 3 hours for retrieval of both the organs. Dr. Anurag Shrimal, multi organ transplant surgeon at Wockhardt Hospitals who retrieved liver along with his colleague Dr. Narute, Liver transplant surgeon from Sahayadri Pune, said "This is an exemplary demonstration of coordination by team Wockhardt, ZTCC Nagpur and NOTTO which enables us to carry out harvesting and transportation of heart and liver involving 3 different cities by commercial airlines.''
It is to be noted that this is the first time that an interstate heart transplant from Nagpur has taken place. Dr. Sameet Pathak , CVTS Surgeon, Wockhardt Hospitals and who was involved in retrieval of heart said "Heart transplant is not only technically challenging task but coordination between various hospitals and team of doctors is much more demanding. Wockhardt Hospital is now in a position to cater to any such challenge and has established itself as one of the best Centre in Central India for Organ Transplant Program. This donor was a 40 year old male and his heart has been flown to Delhi for transplant. Timing is of essence here and transplant within 6 hrs from retrieval is very important for good result. Here today morning heart and Liver was retrieved in good condition without delay and teams have left for final transplant destinations.''
A green corridor was prepared between Wockhardt Hospitals and airport and the heart and liver were transported to the airport from Shankar Nagar within 3 minutes 20 seconds of time.
K. Sujatha, Centre Head, Wockhardt Hospitals said "It is indeed very brave of his family who even while grieving for their love one proactively and willingly enquired the doctor about organ donation and was directed to Dr. Ravi Wankhede, Secretary , ZTCC and Dr. Vibhavari Dani, President, ZTCC.''
The donor, Amit Awasthi, is survived by his parents, Vinod Kumar Awasthi, Ratnawali Awasthi, wife and 7-year old daughter.
Dr. Ravi Wankhede, Secretary , ZTCC said "Today was the 24th Cadaver Organ Donation under ZTCC- Nagpur region. Senior transplant coordinator Dr. Rajesh Gade along with Bhavna Methwani worked very hard for the success from arranging to bring the patient from Neuron Hospital to Wockhardt Hospital at Shankar Nagar square, to seeing off the Liver and Heart being sent to Pune and New Delhi ( this first interstate heart transplant from Nagpur). Transplant Coordinators are the backbones of a successful organ donation and transplantation program. The staffs of Wockhardt Hospitals, assistance of police deserve a special applause for their contribution. MSW Veena Wathore newly appointed by the SOTTO helped the hospital for the support of ZTCC.''
Wockhardt has successfully conducted more than 100 transplant surgeries in their Nagpur hospital. Apart from that, region's first cadaver kidney transplant surgery was done at Wockhardt Hospital in 2013. So far they have successfully completed 18 cadavear kidney transplant surgeries in their hospital. In the last 6 years Wockhardt has facilitated organ donation for 49 organs and tissues which includes kidney, heart, liver, skin, cornea. In 2017 alone, they have facilitated 15 organ and tissue retrieval and transplantation surgeries, which have happened in Wockhardt and other hospitals of the city and other states.