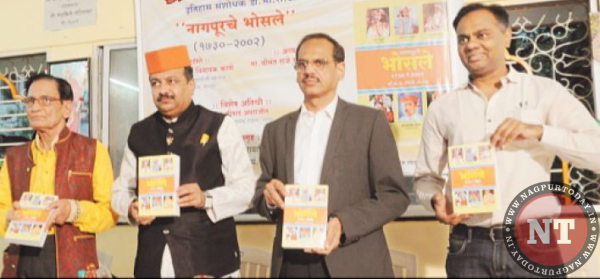 Nagpur: Nagpurche Bhonsale (1730-2002), a book penned by noted historian Dr B R Andhare has been a voluminous work to make people aware about the life and work of Bhonsala dynasty. Writing history is a sacred work and Dr Andhare has been considered as a 'fatherly figure' of all historians in city, said Vice-Chancellor of RTM Nagpur University, Dr S P Kane on Friday.
Dr Kane was addressing as the chief guest while releasing a book 'Nagpurche Bhonsale' during the programme organised by Itihas Sanshodhan Kendra, Sau Meera Andhare Sanskrutik Sangharalaya at Shri Dutta Mandir, Bharat Nagar. Raje Mudhoji Bhonsale presided over. Resident Editor of Maharashtra Times Shripad Aparajit was the guest of honour.
Stating that Dr B R Andhare has set an example of a true historian and researcher before the society, Dr Kane recalled because of his contributions RTM Nagpur University had conferred upon Jeevan Sadhana Award upon him. There is no meaning of life for the educated people if they do not know the history. Dr Andhare has done a marvelous job to compile the history of Bhonsala dynasty, said, Dr Kane. He also quoted Cicero who once stated, " The one who is ignorant about history, remains child forever."
Mudhoji Raje Bhonsale appreciated the work of Dr Andhare and said, entire Bhonsale family has been overwhelmed with the work of him. The book is a summery of life of all generations of Bhonsala dynasty. Chhatrapati Shivaji Maharaj has been termed as the founder of Hindavi Swarajya while the Bhonsale from Nagpur have been considered as expander of Hindavi Swarajya. Bhonsale from Nagpur ruled over states like Odisha, Bengal, Bihar, Madhya Pradesh, Chhatisgarh, Punjab etc. Dr Andhare has documented the great work of Bhonsala in his book, he added.
Mudhoi Raje Bhonsale also appealed Dr Andhare to come out with the books on Khandoji Maharaj alias Chimnabapu and Raghu Raji Bhonsale (IV).Shripad Aparajeet expressed the need to conduct research on historical places and historical personalities in Vidarbha.Dr B R Andhare made the introductory remarks. Dr Shrikant Sontakke conducted the proceedings of the event. Dr Deepti Andhare introduced the guests. Dr Mohan Kapgate proposed a vote of thanks.