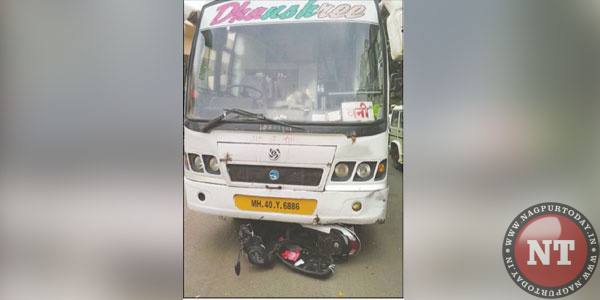 Nagpur: A young woman was crushed to death by a recklessly driven travel bus on Wardha Road on Friday. In another mishap, an employee of Parle G company was knocked dead by an unidentified vehicle.
In the first incident, complainant Deepali Pramod Katole (38), resident of Pushkar Aprtment, Ingoley Nagar garden Society, Wardha Road, along with her friend Sapna Ajay Moon (33), staying in same apartment, were going towards Somalwada on their Activa moped (MP-28/SD 7522) around 12 noon on Friday. While taking a turn at Cargo turning, a Wani-bound private bus (MH-40/Y 6886) of Dhanashree Travels hit her vehicle from behind with forceful impact. As a result, Sapna fell down and came under the wheels of the bus. After the mishap, the bus driver fled the spot fearing angry backlash from nearby people. A critically injured Sapna was rushed to Orange City Hospital & Research Institute but she succumbed to her injuries while undergoing treatment.
Sonegaon police constable Ramesh, based on the complaint lodged by Deepali Katole, booked the unidentified bus driver under Sections 279, 338, 304(A) of the IPC and searching for him.
In another mishap, a resident of Kalamna, Umred Road, Prashant Prakash Kadu (28), and working in Parle G Factory at Bahadura Phata, was either returning home or going to the factory around 10.30 pm on Friday on his Activa moped (MH-40/AS 6320). Midway near Outer Ring Road Flyover at Adali Turning, an unidentified vehicle dashed against Prashant's moped. He received serious head injuries and died on the spot.
Hudkeshwar API Bele, based on the complaint lodged by Ravi Gurunath Game (31) of Vaibhav Nagar, registered a case under Section 304(A) of the IPC read with Sections 134, 177 of Motor Vehicles Act and searching for the unidentified driver.