Nagpur:Ganeshotsav is the most prominent festival of Maharashtra. And Mumbai, being the capital city of the State has a very strong essence of Marathi culture. Ganesh idols are brought in almost every household in the city. Lord Ganesha is very central to the Marathi culture, the mores of the native Marathis. Celebrated over a span of ten days, the festival of Ganesha paints the entire city of Mumbai in tints and shades of various colors.
There is mirth, festivities and life filled in. Pandals are set up in every nook and corner. To a layman, non-Maharashtrian, the festivities of Ganesh Chaturthi has been witnessed only in Bollywood movies. This has also set a new trend of having eco-friendly Ganeshas in the city. Mostly shot in Mumbai, a lot of Bollywood movies cover the local culture vastly, especially encapsulating the festival of Ganesh Chaturthi which is the primary element and epitome of Marathi culture.
While the influence of Lord Ganesha is profound in the world of cinema, the cinematic representation of Lord Ganesha is not that frequent as it ought to be in the world of Hindi cinema, though it needs to be underlined that in the Marathi cinema Lord Ganesha forms an integral part of cinematic exposition. As the festival unfolds from tomorrow and the city of Mumbai would be in a festive mood, it would be a perfect occasion to go down memory lane and list out some films where the festival has been given eminence.
Sangeeta Bijlani celebrates Ganesh Chaturthi with ex-beau Salman Khan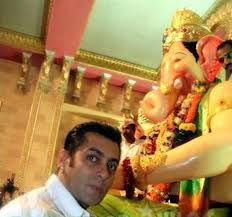 Katrina Kaif isn't the only ex-girlfriend Salman Khan and family still bond with. Sangeeta Bijlani, Salman's girlfriend from way back when, is also very much a part of the extended Khan-daan. The former model and actress, now married to ex-cricketer Mohd Azharuddin, was spotted at Ganpati Visarjan celebrations at Salman's residence yesterday.
Sangeeta has also been photographed at various other family events. She was seen with Salman Khan's family watching Heroine and happily posed for shutterbugs with Salman Khan's sister Alvira Khan. Salman's brother Sohail Khan, dad Salim Khan and stepmother Helen were also with them.
Salman is believed to be offering Sangeeta a shoulder to cry on after rumours of trouble and infidelity in her marriage to Azhar. Salman, beloved in Bollywood for his heart of gold, had a famously acrimonious break-up with Aishwarya who later accused him violence. But, as his current cordial relationships with Sangeeta and Katrina show, he does know all about Being Human.
Heroine: Kareena, Madhur seek Ganpati Bappa's blessings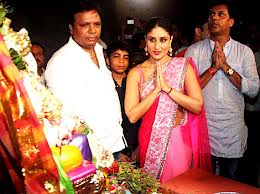 What better way could it be to approach the release of your film with the blessings of Bappa! Director Madhur Bhandarkar and Kareena Kapoor celebrated Ganesh Chaturthi first day at Sarvajanik Ganeshostav Mandal at Bandra, Mumbai on 19th September, Wednesday. They sought Vinayaka's blessings for their most-anticipated movie Heroine, which has hit the screens today.
Dressed in all traditional avatar Kareena Kapoor and Madhur Bhandarkar did lord Ganesha's darshan and prayed for the success of their forthcoming release Heroine. The crowd gathered in big numbers, while Madhur and Kareena did aarti. First the director-actress duo had gone to Siddhivinayak to launch the music of the film and now this. "We will go wherever Bappa calls us!" said Madhur.
Kajol favours to celebrate eco-friendly Ganpati Utsav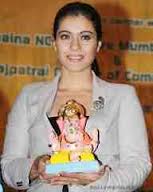 Actress Kajol wants everyone to celebrate a clean and eco-friendly Ganesh festival, which kickstarted Wednesday. "Please, all of you, go ahead celebrate an eco-friendly Ganpati and make sure that whatever happens, at the end of the day you are there to clean up and to make sure that you don't litter the city more than you already have," the 38-year-old said here.
About her own celebration this Ganpati, Kajol said: "I think welcoming Ganpati begins from the heart and I feel god is around us 24 hours, 365 days of the year. I believe in that more than just keeping a special day for Ganpati."
The Ganpati festival is full of life in Mumbai, and several Bollywood celebrities celebrate it with fanfare.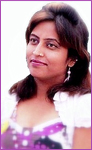 Suhani Vanjani