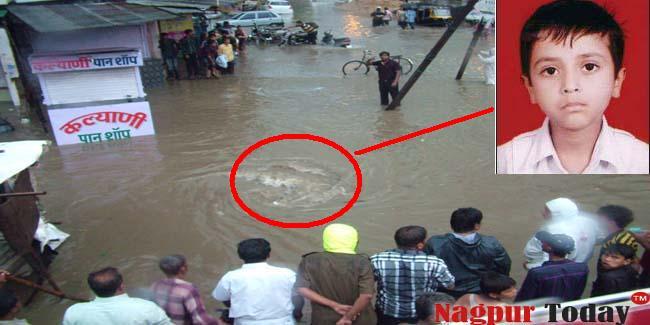 Nagpur News: The worst fears have come true. The nine-year-old child, Harshal Arjun Meshram, it was feared that he fell into an open manhole in the Jagnade square area, was found dead three kilometers away from the spot. The heavy to very heavy rains battered Nagpur, and as result, several areas and streets had turned inundated with water. The speed in which the rain water was flowing on the streets the boy, it appears, could not notice the whirling water near manhole and was sucked in by the swift current of water.
The body of Harshal was noticed in Nag Nadi near Hiwri Nagar Power House. A huge mob of nearby people from the area gathered at manhole spot and resorted to strong protest against NMC for their utterly negligent attitude. The manhole should have been closed with an iron cover in anticipation of heavy rains during monsoon. But the NMC authorities, for years together, were found waking up from their deep slumber whenever a tragedy takes a shape. The protest continued for two hours. Midway the protest the news of Harshal's body has been found in Nag Nadi near Hiwri Nagar Power House reached the police and, the crowd, too. The news fuelled the anger of people who resorted to "Rasta Roko." The protest badly affected the road traffic and a chaos prevailed for a long time.
The boy, Harshal, was studying in Standard V in Keshav Nagar Higher Secondary School. He, along with other friends of the area, the Nandanvan Slums,  had gone to Jagnade Square for enjoying the rains. Meanwhile, his one of the slippers, came off from his foot and started flowing with fast water current towards the manhole. Harshal, too, followed his slipper, and a tragedy, too. As soon as Harshal reached the manhole, he found himself in a whirling waters and was sucked by water current inside the manhole. Subsequently, Harshal was swept away in the big water pipeline, and unfortunately, reached the "destination" three kilometers away from the manhole, dead. At about11 am, a youth found body of Harshal  trapped in the garbage of Nag Nadi. Police have sent Harshal's body for post-mortem.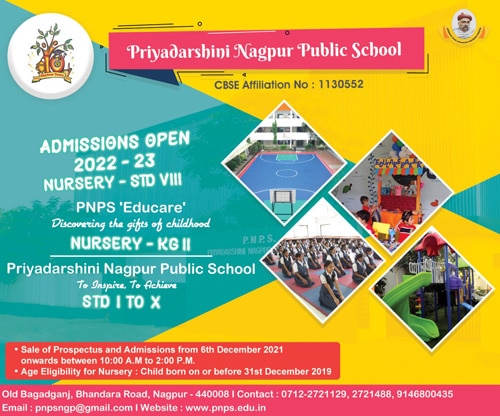 However, the tragedy could have avoided as a witness Chanchal noticed Harshal in great danger when he was sucked into the manhole. Chanchal rushed to help Harshal and, he even, caught hold of Harshal's hand. But the very very fast water current slipped his hand from Chanchal's grip, and life, too.
Chanchal informed the police and the fire brigade immediately. Rescue operation commenced but Harshal was nowhere to be found. Divers were sent in but all efforts went in vain.
Related News: http://nagpurtoday.in/near-jagnade-square-9-year-old-child-feared-drowned-in-manhole/