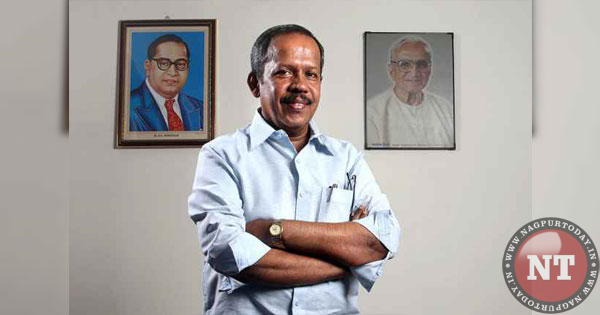 Nagpur: At a time when Central Government is pushing all development policies through NITI Aayog, the Sangh-affiliated Bharatiya Majdoor Sangh (BMS) is questioning the working style of the Aayog. Criticising the working of NITI Aayog, the BMS has demanded change in basic structure of it. According to the National President of BMS C K Sajinarayan, the people sitting in NITI Aayog make policies according to their discretion and changing situations. Ground realities are far away from this. "There is need to change policy-making mechanism of NITI Aayog.
The Aayog gives absurd suggestions like recovery of taxes from farmers, water by money etc. The Aayog people are also making policies connected to labourers. The practice is like violating the country's labour laws. Regional representation should be ensured while making preparing development schemes in the regions. This will ensure effective implementation of the schemes. Country has suffered a lot due to economic reforms and labour reforms as well. Micro and small industry sector has taken the brunt most.
The current policies are benefitting the affluent people only. In the financial year 2013-14, the manufacture sector hit the bottom of the barrel. Similarly, in the financial year 2014-15, the foreign investment was lowest in the past 50 years. The policy of Foreign Direct Investment in the country is not being implement properly. The textile industry has suffered 90 percent due to the privatisation policy. The present government has initiated tangible steps for labour reforms fruits of which are being reaped by labour sector," Sajinarayan said.
The National President of BMS was interacting with media persons at the regional office of BMC in Dhantoli on Monday.
White Paper be brought on liberalisation:
Sajinarayan demanded that the government should bring out a White Paper on current economy after policy of liberalisation was pushed in 1991. "The liberalisation police has hit the country hard. After 26 years of the move, a thorough discussion should be held on the effects. We should study liberalisation, privatisation and globalisation and then make a new economic policy. This policy should be made keeping in mind the present economic situation. The economic policies remained the same irrespective of governments of whichever party. Capitalism influenced the policies," the BMS President lamented.
No clear policies on merger of banks:
The National President of BMS said that the public sector banks are being merged on the pretext of economic reforms. There should be a policy on merger of banks. The interests of employees of major banks are being protected even after merger of banks. However, the smaller banks which are being merged in bigger banks, their employees are coming in grade two. It means they are being overburdened with works. Pressures are being exerted for transfers. The country's banking system is an example for the rest of the world but recent scams have dented the image of some banks, he stated.