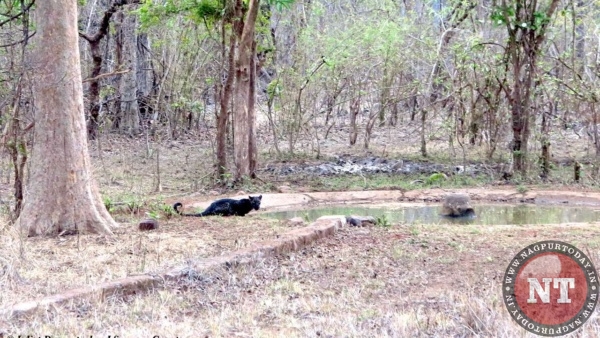 Tadoba: For a Belgian family, a visit to Tadoba Andhari Tiger Reserve was a memorable one, as ended up spotting a black leopard, also known as the Ghost of the Forest because of its elusive nature. The image has sent frenzy amongst wildlife enthusiast.
The Aernouts were out on their evening safari in Kolsa zone near Shivanjhari waterhole of the reserve and were eager to catch a glimpse of the Shivanjhari tigress who moves around with her three cubs. However, they spotted a leopard quenching its thirst and managed to photograph it.
"It was around 6.15 pm and our naturalist Swarna Chakraborty was with the family in the gypsy and drove near the waterhole on their way out of the park to see if the tigress was around but instead they spotted a leopard. Chakraborty looked through his binoculars and confirmed that it was indeed a melanistic leopard," informed Ranjit Mandal, General Manager of the Svasara Jungle Lodge.
Field Director of TATR, Mukul Trivedi said that it was in the evening that the officials from resort first alerted him about this prized sighting and even shared the photographs. "Since we had some camera traps set up near the water hole that have been installed for tiger population estimation we immediately got it checked and found the image of a melanistic leopard captured and hence the sighting has been confirmed," he said adding that a black leopard was earlier spotted and also camera trapped when Wildlife Institute of India were monitoring the tigers in TATR but a tourist sighting it has created a huge excitement.
Sarosh Lodhi, founder member, CLAW an independent forum of wildlife enthusiasts from Maharashtra said that the park will soon have even more visitors flocking as now there is something new to look forward to. "We only hope that the TATR does not go the Kabini sanctuary way and hike up the entry fees after surge in the number of visitors now," he said.