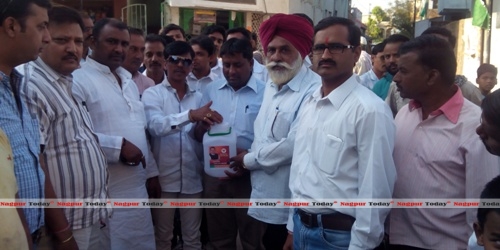 Nagpur News.
BJP's countrywide initiative – Ek Vote Ek Note, launched recently to garner voters' support for upcoming general elections, has been gaining momentum in the city. The concept of this campaign is based on the party's poll strategy which requires the campaigners to appeal for votes while asking for donating any one note.
Similar drive was undertaken by the BJP in the North Nagpur where the party workers toured Mahinder Nagpur at ward no. 4 and made their appeal to the voters.
Senior BJP workers Prakash Jaiswal and Balvinder Singh Sandhu lead the North Nagpur 'Ek Vote Ek Note' drive.
Jaiswal briefed about the campaign and encouraged everyone to come forward. Other members who were a part of the campaign drive were Lala Qureshi, Abdul Qadir, Pasha Khan, Surendra Yadav, Vikas Oberoi, Gopal Raut, Nawab Ashrafi and Dhiraj Shahu.