New Delhi: Union Minister Nitin Gadkari has exuded the confidence of coming to power and forming the government in Chhattisgarh, Madhya Pradesh, and Rajasthan. Notably, assembly elections are being held in five states.
Talking to news agency, Gadkari said, "I have toured Chhattisgarh, Madhya Pradesh, and Rajasthan and I am very confident that the BJP will form the Government again in all three states with the majority."
Elections in Chhattisgarh were held in two phases — on November 12 and November 20. There is a tough contest between the Bharatiya Janata Party (BJP) and Congress, among other regional parties. The term of the Bharatiya Janata Party (BJP)-ruled 90-member Assembly in the state concludes on January 5, 2019.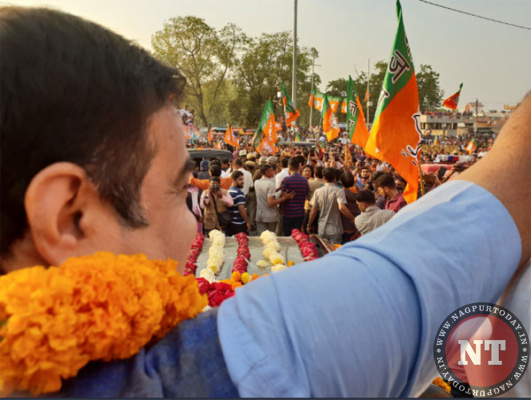 In Madhya Pradesh, it is predicted that a neck-and-neck battle between the BJP and the Congress in the Assembly election. Of the 230 seats, the BJP holds 166, the Congress 57, the BSP 4 and Independent one. It was widely speculated that Congress might forge an alliance with Mayawati's BSP as the party has some vote share in the state. But the attempt failed, giving some advantage to the BJP. The Congress has not announced any chief ministerial. Voting in the state was held on November 28.
टोंक में रोड शो। pic.twitter.com/YP1wSECqez

— Nitin Gadkari (@nitin_gadkari) December 4, 2018
In Rajasthan, voting will be held in a single phase on December 7. The ruling Bharatiya Janata Party (BJP) had won 163 seats and the Congress 23 seats in the 14th assembly election held in 2013. Elections in Rajasthan have been a two-party affair—the BJP and Congress. Vasundhara Raje has been the chief minister of the state for the full term of 5 years. She was also the chief minister from 2003 to 2008.
राजस्थान के टोंक में मुख्यमंत्री @VasundharaBJP जी के साथ रोड शो किया। जनता का भारी समर्थन और प्यार साफ दर्शाता है की यहा भाजपा की विजय निश्चित है। pic.twitter.com/YbCVaTRVpn

— Nitin Gadkari (@nitin_gadkari) December 4, 2018
While the Congress is pinning its hope on massive anti-incumbency factor against the BJP government in Rajasthan, the BJP can't afford to lose the state that elects 25 Lok Sabha members. Currently, the BJP has 23 Lok Sabha seats and the Congress just 2. Six months before the Lok Sabha General Elections, the Rajasthan Assembly polls outcome is bound to impact both the parties' plank for the Lok Sabha.
The counting of votes of five assembly states will be done on December 11.
राजस्थान के चितौड़गढ जिले के बेंगू में हुई जनसभा की कुछ और तस्वीरे। pic.twitter.com/O82TFlaWoT

— Nitin Gadkari (@nitin_gadkari) December 4, 2018