BJP Members Assault AIMIM Corporator For Opposing Resolution to Condole Vajpayee's Demise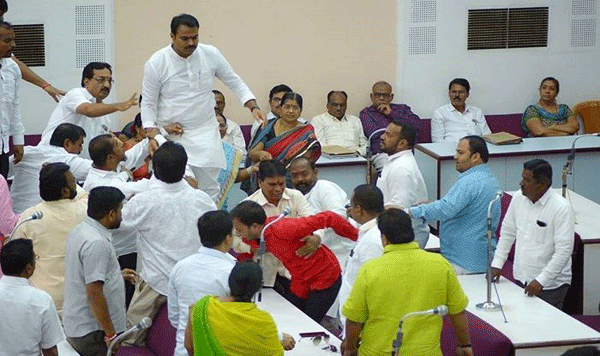 Aurangabad: The Bharatiya Janata Party (BJP) corporators on Friday assaulted an All India Majlis-e-Ittehadul Muslimeen (AIMIM) corporator from Aurangabad for opposing a resolution to condole the death of former Prime Minister Atal Bihari Vajpayee. Syed Matin was pulled off from his seat, slapped, punched and kicked repeatedly by the BJP members in a civic body meeting, an official said.
As soon as the meeting began, BJP corporator Raju Vaidya tabled a proposal to pay tributes to the former PM. When Matin opposed it, at least a dozen BJP corporators, including some women, rushed to him and began the AIMIM leader. A video of the assault, posted by the news agency ANI, shows people grabbing him and beating him even after he fell to the ground.
The security officials later whisked him away through an exit door. He was later taken to a nearby hospital. A BJP corporator said the MIM member has been creating nuisance and had earlier opposed singing of the national song in the House. They even urged the Mayor to expel the MIM corporator for his "anti-national move".
Sayed Mateen told PTI that he was opposing the move of paying tribute (to Vajpayee) in a "democratic manner" but around a dozen BJP corporators assaulted him. He named some of them and demanded a strict action against the corporators.
Following the assault, some AIMIM workers resorted to stone-pelting, damaged a car belonging to a local BJP functionary Baburao Deshmukh and also beat up his driver.
Later in the day, Legislator Imtiaz Jaleel of the AIMIM met the police commissioner and demanded a through inquiry into the incident. "Mateen`s decision was in his personal capacity. It is not AIMIM`s official view, nor did he consult us. For this, I am recommending stringent disciplinary action against him," he said. Describing the assault as "totally democratic", Jaleel said that the attack displayed "mob-lynching mentality".
In another such case, an assistant professor of Mahatma Gandhi Central University in Bihar's Motihari district was thrashed by a group of people for sharing a post on Facebook which criticised the former prime minister Atal Bihari Vajpayee who died this Thursday. The police have arrested at least 12 people for beating up assistant professor Sanjay Kumar.