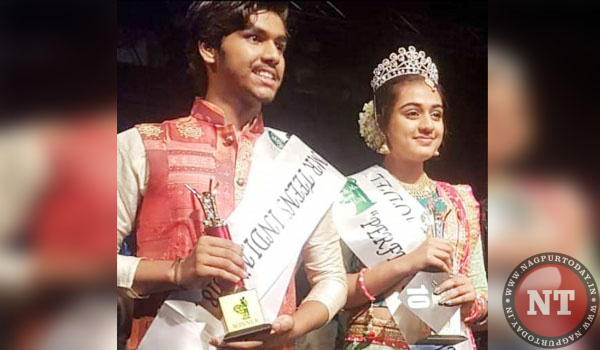 Nagpur: Gorgeous Bhumika Sinha (13), daughter of Anubhav Sinha and actress Shweta Sinha, and handsome Aryaman More, son of businessman Chandrakant More and lawyer/actress Pritee More, were declared Miss and Mister Teen respectively at the Perfect Mr and Ms Teen Season 1 held at at St. Andrew Auditorium recently
The Miss Teen was also the youngest contestant. The show was organized by Gurubhai Thakkar, Dr. Khooshi Gurubhai Thakkar, Dr. Geet and followed by host Abu Malik. Alka Yagnik, Pooja Mishra, Vividha Shinde (Perfect Miss India 2017), Arshifa Khan, Shivani Kashab, Sweety Walia and the brand ambassador Roshni Walia were present as judges.
Miss Teen and Mr Teen were unique in their own ways as were the others. Miss Teen Bhumika Sinha being the youngest was exceptionally talented. She is a district level Karate player and is also known for her beautiful singing. She is interested in fashion designing which also makes her special. Bhumika has a winning attitude which says that if she takes up anything she won't give up easily and the best thing about her is that her cuteness is out of this world.
Talking about Mr Teen Aryaman More, acting and modelling has been his passion since childhood, confidence, talent, winning attitude, positivity and enthusiasm makes him different. He has been in this industry since childhood. Not only them but all the contestants were super talented. Here are the runner ups: Zaid Shaik (1st runner up boys), Vinni Gupta (1st runner up girls), Yash (2nd runner up boys) and Pritvik (2nd runner up girls).