Bhavan's Srikrishna Nagar outshine in CBSE West Zone Chess

Nagpur News.
The outstanding under- 14 Boy's team of Bhavan's Srikrishna Nagar comprising Om vitalkar, Devansh Ratti, Ameya godbole, Pavitra Batra was adjudged as champions. The U/19 Girl's team comprising of Divya Garg,  Mahika Mor,  Pakhi mor,  Ekta Ghuse notched the second (2nd) place, and U/14 Girls  . Anannya Menkudle, . Sharanya Adane, . Narayani Adane. Natasha Rathi secured Fourth (4th) place in the CBSE west zone chess championship held at Urmi high school, Vadodra Gujrat. All the three tea had qualified for the CBSE National Chess held at Varanasi, U.P in the month of December 2013.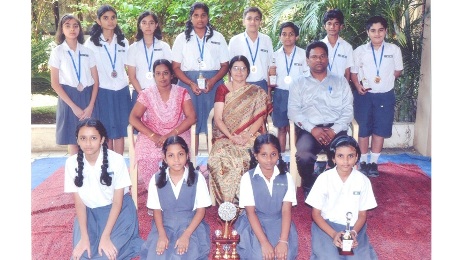 The Sr. Principal A. Shashtri and their Coach Umesh Panbude and manager Hemant Siriah, vishakha Joshi congratulated the  players on their success.