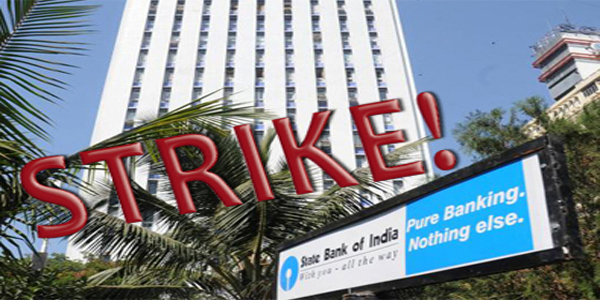 Nagpur News : The two-day nationwide strike called by 11 trade unions kick-started on Wednesday.
The unions have put forward a charter of 10 demands such as urgent steps to control price rise, strict enforcement of labour laws in all places of work, social security net for workers in the unorganised sector, end to disinvestment in PSUs and raising minimum wage to Rs 10,000 a month.
The strike has been called jointly by the Bhartiya Majdoor Sangh (BMS), All India Trade union Congress (INTUC), All India Trade Union Congress (AITUC), Hind Mazdoor Sabha (HMS), Centre of Indian Trade Unions (CITU), All India United Trade Union Centre (AIUTUC) and other affiliated organisations.
Banking Services: As many as nine banking unions are participating in the strike. Ten lakh bank employees and officers working in 90,000 bank branches of all public, private, foreign, co-operative and regional rural banks across India will observe a 48-hour strike.
So postpone any bank-related work for Friday. Cheques and other transactions may not be cleared instantly.
Only Good news is for ICICI bank customer as bank  is open today.
Transport Services: In Nagpur, auto and taxi unions have announced that they will not be part of the bandh.
Other Services: Expecting a gas cylinder deliverboy at your doorsteps on Wednesday? Don't bother. He won't turn up. Also on the NOT WORKING TODAY mode for the next couple of days are insurance offices, telephone services and post.
Essential services like water supply, electricity will continue as routine.
In Maharashtra, the government has warned all Class IV employees to withdraw their strike. They have said that they would issue disciplinary action against any officer or employee found participating in the strike and causing disruptions.