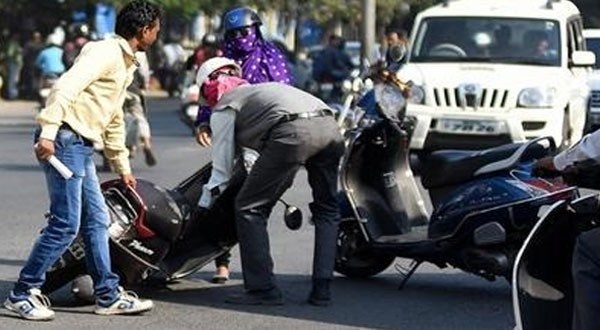 Nagpur: Alert all the commuters who drive on on city roads on daily basis! With the increasing road accidents in Nagpur leading to deaths and serious injuries to the commuters, the city traffic police and Regional Transport Office (RTO) have identified and earmarked 37 most sensitive accident-prone spots.
The spots identified in the joint survey are those where fatal accidents occur repeatedly. The study shows the highest number of accident spots are in Zone V, which comprises parts of East and North Nagpur. Juna Pardi Naka, and road from Prakash High School to Kapsi Bridge, alone witnessed 66 accidents in the last three years. The eight other roads in this zone have witnessed 303 accidents, and claimed 88 lives and left 241 injured.
There are many reasons for this, such as under-construction flyover, wide roads that allow vehicles to speed, dimly-lit stretches, drivers jumping signals, and poor roads, says the report.
The roads in West and South West Nagpur too can be considered unsafe, as eight stretches have witnessed 197 accidents, which claimed 89 lives and left 173 injured in the last three years.
Police said that the number of 'black spots' in these both zones are higher because vehicles of all sizes merge on Bhandara and Amravati Road. "Besides these spots, there are eight other highways stretches that are accident-prone spots," said city regional transport officer (Nagpur city) Sharad Jichkar.
In the last three years, three patches of Amravati Road — Waddhamna, Eighth Mile and Dongargaon — have witnessed 25 fatal accidents that claimed 29 lives. The other five accident-prone highway patches include Mahesh Dhaba, Chinchbhuvan and Chhindwara Road with 60 accidents that claimed 63 lives.
Excluding Nagpur city, the number of black spots in the division, which comprises Gadchiroli, Chandrapur, Bhandara, Gondia and Wardha districts, is around 32, said rural RTO Shripad Wadekar.
He said apart from human error the survey identified various other reasons for road accidents. Referring to the report, Jichkar said poor engineering, road conditions, unauthorized breach of road dividers, encroachments, and infrastructure works are main causes of road accidents.
Lack of traffic sense among motorists in the city is also one of the main reasons for mishaps. The core responsibility of the joint team was to analyse accidents. The unit has submitted data on current year's fatal accidents, and looked for overlapping points, where accidents have taken place since last three years. "Each accident panchnama was scrutinized and areas where fatal accidents and serious accidents have taken place, which claimed 10 or more lives were classified as black spots," said the RTO.
Due to tremendous growth of Nagpur city and exponential growth in vehicular population, many roads and stretches have become unsafe.
The commissioner of police has already convened a meeting with concerned agencies, like Nagpur Municipal Corporation, Nagpur Improvement Trust, state public works department, and National Highways Authority of India (NHAI), to work on accident prevention, either by posting police personnel or changing the road engineering.
Last year (from January to March), there were 331 accidents in the city, where 58 persons were killed. In the corresponding three months of this year, there have been 65 deaths in 280 road accidents.