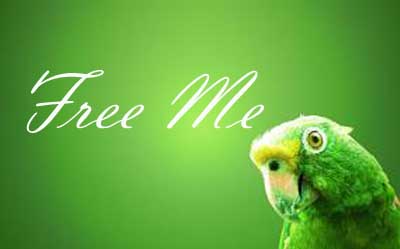 Nagpur News: Beware! The tradition or culture of keeping parrots and nurturing them very very carefully since thousands of years, could now cost you dearly. A family member of hundreds of Nagpur citizens has now appeared on Forest Department radars. The parrots, who are very fondly taught to talk with their keepers, would not even warn them of a danger.
The Forest Department would now consider raring or keeping parrots an offence under Vanya Jeev (Sanghrakshak) Adhiniyam, 1972. The citizens now have two options: Either free the parrots or pay a fine of Rs 25,000. The Forest Department's permission is must to keep any species of listed animals or birds. However, the Forest Department, it is found, never gives permission for the same as it violates Vanya Jeev (Sanghrakshak) Adhiniyam, 1972. The citizens howsoever love to the parrots in their houses snatch the freedom of the beautiful bird.
The parrots must be free to enjoy the natural environment. Parrots have been declared a national asset. Therefore, the Forest Department, albeit, hundreds of years after, has urged the citizens to either release their loved parrots or face a fine of Rs 25,000 if found keeping the parrots with permission or without permission.
However, if one looks into the beauty and the quality of parrots to speak in human language, the bird species are the boon for citizens, and the bane for the bird itself.