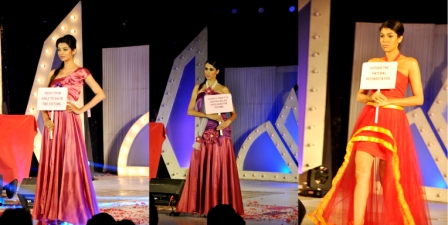 INIFD, the known fashion academy that works at national level had arranged an amazing showcase of fashion that was put forth a blend of noble cause. The fashion show, that happens every year around this time took place at Deshpande Hall, the sponsors of the event being Raje Laxmansingh Bhonsale , Raja Tidke along with the members of  Marinating Films.
The packed hall witnessed everyone dressed up in their elegant wears, benefiting the gutsy entertainment flavor of the day. The gorgeous models being one of the key highlights, the entire show saw keen interest from the crowd. The young aspiring designers displayed their talents in this fashion show that served a cause.
The show reflected the oomph of various cultures and genres with its enriched collections under the titles Lajja- the Modesty unveiled, Ainna (Mirror), Passion Punch, Royal Princess, Young Buzz, Kudrat, Golden Hour, Modern Magic, Brutus World, Butterfly Bloosoms, Beautiful Rose, Serene, Amethyst sky, Tangerine Green, Vinti and "We Know no Opaqueano".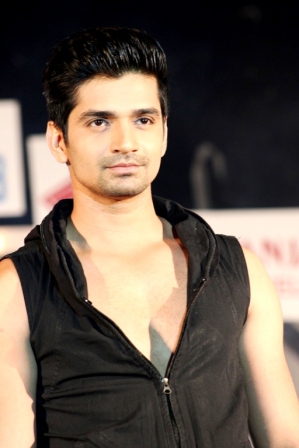 The show saw scintillating performances as a blend of singing and dancing by the TRP Band and performance by Ruhi Chaturvedi added to the enthusiasm.
Also, this night shook the emotional strings of the spectators with the help of touching songs like 'ek tara', as the Uttarakhand crisis was narrated, and people were urged offer helping hands. The lost lives of Uttarakhand were paid homage at the show.
Famous TV page 3 actresses became a part of this night, including the models. These included Rucha Hasabnis, Vishal Singh, Barkha Bisht, Divyanka Tripathi, Sana Khan and others who appeared on stage with placards reading appeal for the people hit by floods in Kedarnath, Badrinath and other areas in the state of Uttarakhand.
The show also served as a platform to introduce the new faces for the 'Indian Telly Calender' that will soon be launched in winter this year. The faces included names of famous TV Actors like Ruchi Sabnis, Vishal Singh, Barkha Bisht, Divyanka Tripathi and Sana Khan.
Show choreographer Sunny Arora said "Last year show had a pre launch of 'Indian Telly Calender' wherein this year the calendar has new faces, new themes & new destinations."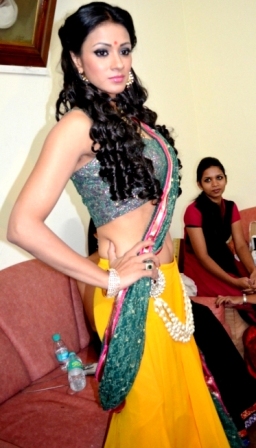 The INIFD Centre Director Mr. Sarvesh Agrawal, who worked hard to make this show a success said, "It's a proud moment for us to see our students present their collection. These are budding designers of tomorrow. The collection proves that these students will make a mark for themselves in the fashion industry. I wish them the very best for their future."
The team worked hard that finally paid off, raising the bar of expectation for their next venture.
– Ritu Walia