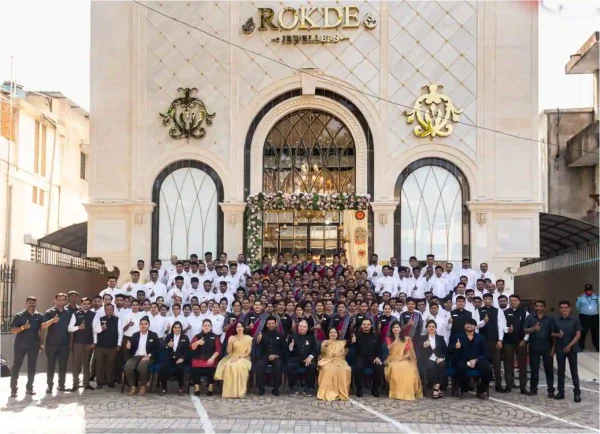 Nagpur: Gudi Padwa is just round the corner and it's time to ring in celebrations in a traditional way! Gudi Padwa will be observed on March 22, 2023. The festival marks the beginning of a new year for Marathi and Konkani Hindus.
The excitement of the festivals has already begun with people thronging clothes and Jewelry shops. Oh wait? Are you still thinking about what and where to buy gold and silver jewelry from? Your confusion will come to an end after hearing the offers introduced by Rokde Jewelers for this festive season, among the best jewellers in Nagpur to Shop this Gudi Padwa for Jewellery
Make this Gudi Padwa more special with your loved ones. The leading Jewellery brand of Nagpur is offering booking of your favourite Jewelry at 50 per cent amount and get to buy at the lowest price! You get to choose between the booking rate or delivery rate.
Discover the exclusive Saaj wedding collection at Laxmi Nagar branch of Rokde Jewelers. Here's a glimpse!
View this post on Instagram
About Rokde Jewellers
Rokde Jewellers is one of the top players in the category of Jewellery Showrooms in Nagpur. It has over 180+ years ago, from a small shop at Itwari, Shree Markant Raoji Rokde started a business which produced the silver product Karagir work.
Shree Rambhauji Markant Rao Rokde son of Markant Rao Ji Rokde, overtook the business as early as 1900. He continued the legacy of producing products with Karagir work. The belief that customer satisfaction is as important as their products and services forced him to make customized products. He took orders and then made the products for the customers.
It is a well-established jewellery shop where you get ornaments as per your need for satisfaction and the value of your money. They pride themselves on offering unique and wonderful jewellery items at reasonable prices. They aim to expand their products and services and cater to a client base.
Rokde Jewellers offers monthly schemes. They have all kinds of collections, wedding jewellery.