Besharam : Phootein Karam !
Director: Abhinav Kashyap
Music composed by: Lalit Pandit
Producers: Sanjeev Gupta, Himanshu Mehra
Genres: Romance Film, Comedy
Cast: Ranbir Kapoor, Rishi Kapoor, Neetu Singh, Jaaved Jaffrey, Amitosh Nagpal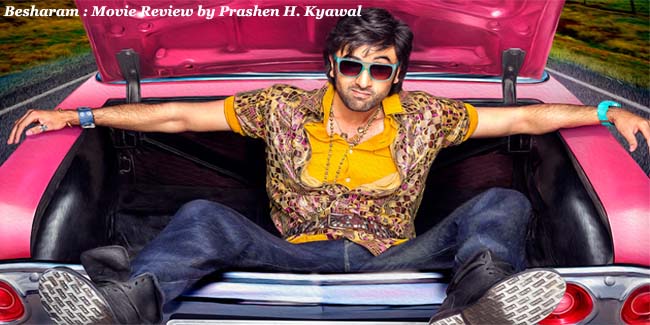 I have an observation and a theory about Bollywood that there is lack of life experiences in majority of today's writers, directors and actors. And I think this is because of urban (and even western) upbringing of the 2nd and 3rd generation of filmy families as well as other new generation of outsiders entering in the industry. Because they haven't seen the hardships in life in B/C town cities or villages, they haven't faced the challenges which majority in this country face even today, they are not able to write/direct subjects which connect to the heart of the audience of whole country which used to happen earlier. They have not seen how people hold on to relationships and why. They have not experienced that one can have fun in life without discos, pubs and tequila shots. Such lack of life experiences leads to fast food kind of stale recipes which are assembly line productions. Their products, do not have heart and soul of majority of India.
This is why people from other parts of the country coming from B town cities are able to create major impact recently. They can think of subjects which have mass appeal. They can write screenplays picking best of real life and making it better by adding larger than life antics to it. They can direct in a way that it touches the heart of all every type of audience. In short, they are able to give them typical paisa wasool masala entertainment we all crave for. One such person is Abhinav Singh Kashyap. Even after being sibling of a brother who is almost an iconic personality in independent and non mainstream section of industry, he came out with a fully commercial mega blockbuster in his debut. Dabangg is fifth biggest grosser of the industry. Not only it did business but is appreciated by all for its entertainment value. It had live and unique characters who had real relationships, problems, and believable triumphs over them. It was larger than life angry young man kind of story of yesteryear's which is liked across all layers of the society.
After proving ones mettle in first film itself, it was easier for him to get any star for his next film. And he got heartthrob of the new generation, "Ranbir Kapoor" on board for his second movie "Besharam". With such combination, expectations are bound to be there when the movie releases. It created good buzz after even on its poster release. Look of Ranbir in the poster was talk of the town. We expected original story-line, unique characters with quirky habits, strong emotional connect, high drama and of course full on masala entertainment. However, the end product is altogether a different outcome.
The story is of a petty and shameless car thief who is an orphan. He justifies his method of making a living by donating all his money to the orphanage he grew up. He deals with deadly hawala racketeer from Chandigarh and delivers him a stolen car only to find out later that it is owned by his lady love. What happens next is the story which we can easily give a miss.
Abhinav Singh Kashyap has written this movie with Rajeev Barnwal and they really had some good ideas at hand. However, they failed in correctly judging their plot and characters, improvising scenes and perfectly setting all the pieces of the puzzle. In short, finally they created a tacky, half baked and disgustingly vulgar screenplay. The ideas in their mind are not coming well on screen and keeps us wondering "what the hell am I watching?". To justify the idea of "Besharam", they use tacky and substandard humor which even C grade films would think before using. As they say "Jisne Ki Sharam, uske phootein karam", however, here they will have to face "phootein karam" as they have got too besharam.
Abhinav not only failed as a writer, he could not bring life to an already dead script with his creativity as Director. Again the flaw is not realizing the exact storyline of the movie and under utilizing the strengths. Rishi Kapoor and Nitu Singh's characters start as 2nd fiddle roles which take driver's seat in the end. If that track was more strongly written and the love story and songs were cut out to half, things would have been improved. However, it is a lost opportunity now. The director has not only broken trust of his audience but also of these 3 Kapoors who must have believed in his vision.
All 3 Kapoor's sincerely try to breathe life into an uninspiring plot however they are let down by loopholes in the script and direction. Ranbir Kapoor still shines like a single star in the darkest sky. His sincerity as an actor is admirable. However, he also could not judge exactly how he has to poetry the lead character. Many times, we get feeling of Deja Vu of watching his characters he has done earlier. Even though it alone can not save the movie, still we must give him credit for his honest work.
The biggest let down in this movie is the heroine. It is heard that Ranbir is a very gentleman and immensely obedient actor, however he needs to use his star power and insist on better choices as his heroine. The unknown face which will remain unknown after this movie too is not a heroine material at all. She has average looks and her actings skills are average too. Having so big and important part in the script, a better choice for the role was very much needed. Rishi and Neetu Singh are wasted and have some scenes which must be the lowest points in their career. Blind faith in writer/director by such naturally talented actors is sometimes harmful to their own reputation. They need to be careful next time. Javed Jaffrey too is wasted. Others are ok in their part.
Film has uninspiring music which is too much and is all over the place. Almost all songs are unnecessary and bad. This can be the worst work done by Music Director Lalit Pandit (again a bad choice for movie of this level). It is interesting to know that this film has 2 editors i.e. Pranav Dhiwar and Pankaj Sharma, but it seems were sleeping through their jobs. The film is lethargic and has a lot of scope to cut scenes and songs. Cinematography by Madhu Vannier has nothing to take home and production quality of the movie is average. I wonder can their be anyone who can guess how the project is going kaput and do something to get it on track? I mean even if it is needed to chuck all the songs, get new ones and reshoot 40% of the movie, it shall be financially ok for a film which has Ranbir Kapoor. I am sure that the film's production cost is recovered in first day's business itself. If the film has bigger budget than that, it is not visible anywhere in the film.
Overall, it can be said that this is a film where the creators could not find its true genre and method of treatment. The writing and direction is visibly confused due to this basic problem. Even the actors could not get grip on characters for this same reason. I was planning to give 1.5 stars to the movie but the funny climax which is entertaining even after being over the top is forcing me to give additional 0.5 stars to the movie. If we break it up further, 1 start for movie, half for 3 Kapoors and another half for the climax. If they had written the movie in reverse by starting with climax first, there was a bright chance or them to find true genre and story line of the movie.
Rating:

Recommendation: If you are too forgiving or in love with anything Ranbir does, you can give it a try. Strictly avoid if you like at least above average quality entertainment.
Again, I would say, watch "The Lunchbox" as it is still in theaters.