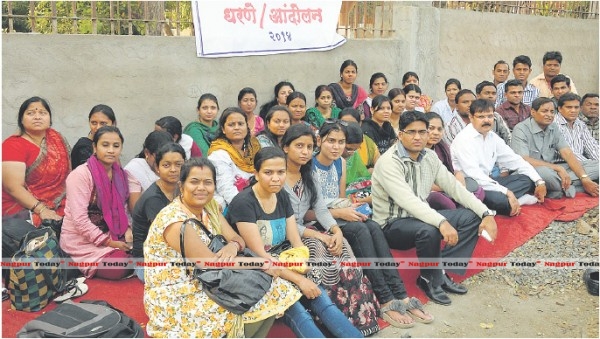 Nagpur News: Around 150 Bachellor of Education (BEd) students on Thursday (February 13) hit the Samvidhan Chowk (RBI Square) for justice in the form declaration of their results. The students were accompanied by the Senate Members Dr Bhandarkar and Adv Manmohan Bajpayee. The 150 students belonged to 18 of the 250 blacklisted colleges.There are about 1200 BEd students whose results are withheld by the RTMNU as they hailed from those colleges where there are not a single regular teacher.
The affected BEd students have been demanding that their examination forms be accepted by the RTMNU administration. The Senate Members, who are supporting the BEd students in their agitation at RBI Square, said that these students be allowed to appear for the examination in accordance with the  Ordinance 22/2010 which has a provision to have casual admissions of students .
The students delegation, under the leadership of Senate Members Dr. G.M. Bhandarkar, Adv. Manmohan Bajpayee  and Dr. Sahare, on Thursday met the Pro-Vice Chancellor (RTMNU) Dr. Mahesh Yenkie and pressed for their demands. However, only the Senate Members were allowed to meet the Pro-VC. According to the Senate Members, the Pro-VC has assured them that a decision on allowing the students to appear for examination will be taken soon. Vice-Chancellor Dr.Vilas Sapkal was not available for any comments as he is in Mumbai.
The aggrieved students will again be gathering at RBI Square on February 14 to protest and press for their demands.