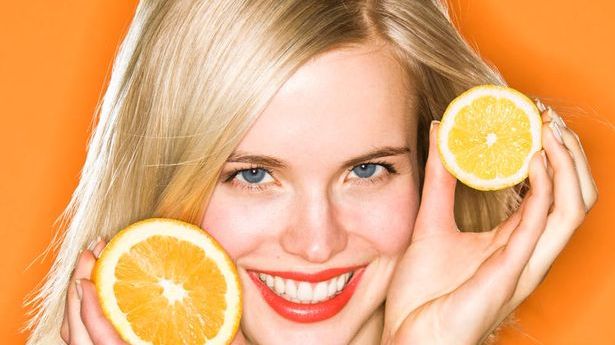 Your kitchen is full of natural beauty products that you can make ample use of without having to spend a lot from your pocket. You don't have to worry about side-effects either as these are all herbal remedies from your kitchen counter. Here's a list of 10 ingredients that you can use to get beautiful skin and hair.
·         Yoghurt or dahi
Yoghurt is easily available in most homes and apart from eating it, you can also make use of it in homemade hair and face packs. It can do wonders for your hair and skin. Mix a tablespoon of dahi with honey and lemon juice and apply it on your face and neck. Keep it for 15 minutes before washing it off with water. This will not only cleanse your skin, but will also make it glowing. This pack is good for skin brightening as well.
For silky and shiny locks, take one cup of yoghurt (you can change the quantity according to the length of your tresses) and add an egg yolk to it. Mix it well and apply to on your hair. Keep it for at least 20 minutes and then wash it with cold water which will help get rid of the smell.
Milk is another common ingredient found in Indian kitchens. A quick and easy face pack is to mix milk with turmeric (haldi) and apply it on your face and neck. This will make your skin glowing and is often applied on a bride-to-be before the upcoming nuptials. Mix some sandalwood (chandan) in the paste for better results.
You can make a hydrating mask for your hair using milk and honey. Apply it on your hair and then put on a shower cap. Keep it for 20 minutes and then shampoo your hair.
Sugar, found in almost all households, can be used to make a body and face scrub. You will need – olive oil, lemon juice and honey apart from granulated sugar. Mix all of these together and apply it on problem areas like knees, elbows, and nail cuticles. It will make them softer after regular use.
Haldi is used extensively in Indian cooking but can also be used in different ways – as face and body packs etc. You can apply turmeric powder mixed with coconut oil on cracked heels before taking a shower for healing cracks. You can also use it on burns for quick relief due to its antiseptic properties. Mix some aloe vera gel in it for better relief.
Get a fruit facial at home without having to cough up enormous amounts of money. You can mash a banana and add some lemon juice and honey to it and apply on your face. This is good for ageing skin as it helps reduce wrinkles and lines. Another good option is orange peel. You can either rub it directly on your skin till it turns black to get a glow; or use it in a powder form. Add milk to the powder and use it as natural bleach. If you suffer from dandruff, apply some tomato juice mixed with camphor (kapoor) to your scalp. Let it stay for 30 minutes before you shampoo your hair.
Sea salt is a great, natural exfoliator for your skin. Make sure the salt block you use doesn't have sharp edges. Now gently rub it on your skin to get rid of dead skin cells. Or add it to the bucket of water you bathe in for smoother skin. You can also soak your feet in water containing sea salt for some time to get a natural mini-pedicure. Sea salt not only improves your skin, it also keeps ageing signs at bay and eliminates toxins.
·         Gram flour or besan
Besan has been used for its skin benefits for a long time now. It is one of gradma's favourite ingredients to solve your beauty problems. For a blemish-free skin, mix besan with haldi, milk and lemon juice. Apply this paste on your face. Let it dry and then wash it with water. If you have oily skin, mix it with curd and apply it on your skin.
Lentils are a common kitchen ingredient in every Indian home and now you can use it to make scrubs and packs apart from eating them. Red lentil or masoor ki daal makes an excellent scrub. First, grind it into a fine powder and then mix it with either honey or milk. Apply it before taking a bath and keep it for 15 minutes before washing it off. Another option is using moong ki daal. You need to keep it under the sun for a day before you can make the paste. Next, add rice (about one-fourth of the daal) and grind it. Add haldi and milk to it and make a thick paste. Apply it on your face and body for glowing and blemish-free skin.
Ginger is a popular ingredient used in many dishes. Now try a foot bath to reap in its benefits. Grate some ginger and add mustard powder to it. Now mix it with lukewarm water and soak your feet in it. This will prove to be very relaxing. Try this before you go to bed and enjoy a good night's sleep after this ritual. Ginger also helps in getting rid of dandruff. Add some essential oil and lemon juice to ground ginger and apply it on your scalp. Keep for some time and then wash with water.
Morning and evening tea or coffee sessions are a popular ritual in Indian homes. Here are ways you can use it to beautify yourself. Wrap used teabags in a packet and refrigerate them. Put it on your eyelids for 15 minutes whenever you have tired eyes. This will be very relaxing for your eyes and also help get rid of the puffiness.
Coffee can be used as a natural dye to colour grey hair. You can also use it to add shine to your hair. Use a strong, fresh brew. Allow it to cool down and then apply it on your hair for 20 minutes. Cover your hair with a shower cap to avoid dripping. Now wash it with warm water and see the results.
So no if you see your hubby in the kitchen it is not the food, nor you but just the beauty tips.