Bawankule's Janata Darbar witnesses war of words between Cong Corporators, BJP MLA Deshmukh

Resignations sought if charges and counter charges were proved false and baseless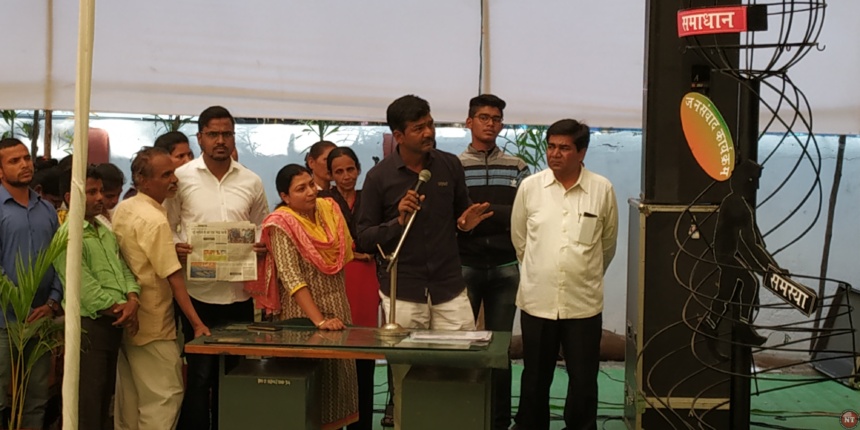 Nagpur: Nagpur: The Janata Darbar being held by Guardian Minister Chandrashekhar Bawankule on Monday witnessed ugly scenes when war of words erupted and charges counter charges flew thick and fast between three Congress Corporators and West Nagpur MLA Sudhakar Deshmukh. Situation came to such a pass that resignations of each other were sought if the charges and counter charges were proved false and baseless. The enraged Congress Corporators charged the ruling party in Nagpur Municipal Corporation (NMC) of indulging in political appeasement and discrimination in allotment of development funds.
Bawnkule has been holding Janata Darbars or Jan Samvad programme every Monday since December 3 last year and on this Monday, the programme was being held in Dharampeth Zone of NMC. But instead of resolving problems of the citizens, the political leaders were found indulging in war of words over one issue or another.
The ruckus started when the Congress Corporators Darshani Dhawad, Kamalesh Chaudhary and Harish Gwalbanshi charged that the Janata Darbar of Guardian Minister Bawankule is becoming more of a BJP programme. They also said that the BJP leaders were heaping insults on Congress Corporators by alleging baseless accusations against them. "The Janata Darbar is a State Government programme but the BJP is publicising it as party's programme. BJP's party symbol is being used in the advertisements or posters of Janata Darbars. There is no mention of a single Congress Corporator," the Congress leaders lamented. When given chance to speak in the Janata Darbar, the three Congress Corporators raised the issue of bhoomipujan programme of held for construction a road in Dhaba. "We were not informed about the programme. Bhoomipujan was done thrice of the same work and marketing was also done of the same," they charged.
The West Nagpur MLA Sudhakar Deshmukh who was present in the Janata Darbar rubbished the charge and clarified that the bhoomipujan was held only twice. Initially a tar road was to be constructed but the proposal was revised and a cement road was proposed. The clarification led to intense wordy duel between the Congress Corporators and Deshmukh. During the heated argument, Deshmukh dared the Congress Corporators to prove their charge. "If the charge is proved I will tender resignation and if you are not able to prove your charge then you should resign," Deshmukh thundered.
As the war of words and charges counter charges flew thick and fast between three Congress Corporators and Sudhakar Deshmukh, the Guardian Minister Bawankule and Mayor Nanda Jichkar remained mute spectators and watched the ruckus in bewilderment. Moreover, all the Corporators and officials of Dharampeth Zone were also present.
This is not the first time the Janata Darbar of Bawankule witnessed such ruckus. Earlier in Lakadganj Zone, the Jan Samvad programme witnessed noisy scenes and exchange of heated words between an office bearer of BJP and Sarika Kadu, Officer of Land Records-2 before the Minister. The lady officer alleged that a BJP office bearer has created pressure over them for the illegal work.