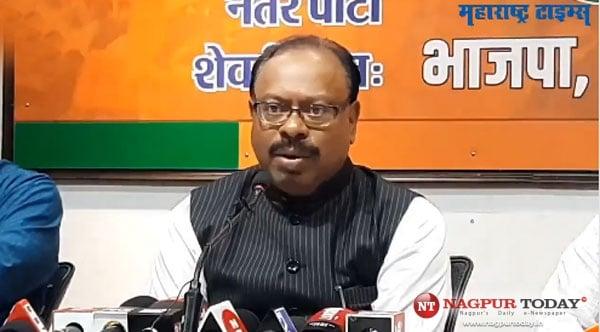 Nagpur: The State BJP President and MLC Chandrashekhar Bawankule on Wednesday said that the Maha Vikas Aghadi Government paid money to the insurance companies, but never reviewed it for two and a half years. Due to the lack of control, crop insurance companies committed massive corruption. This was a failure of the MVA Government. He also demanded a high-level inquiry into the corruption by crop insurance companies.
Bawankule was talking to the media in Nagpur. He said, during the MVA Government, neither the Agriculture Minister nor the Guardian Minister of any district reviewed crop insurance.
The Kharip review meeting was also not held during that time. Crop insurance companies were taking money from the government. But no one paid any attention to see if they really gave the farmers the refund or not, he claimed.
"During the Maha Vikas Aghadi Government, there was no control over the insurance companies. Insurance companies pocketed a lot of money. This is the failure of the previous Chief Minister.
A high-level inquiry should be conducted into the corruption that has taken place in the case of insurance companies during the MVA Government," the BJP leader stated.
Aditya Thackeray is liar:
Stating that Aditya Thackeray is lying, Bawankule said, the information about the Vedanta project has come under the Right to Information Act itself that the previous government had not given land to Vedanta anywhere. No meeting was held in this regard.
The Vedanta project went due to the inefficiency of the Maha Vikas Aghadi Government.
Uddhav Thackeray did not come to the ministry for 18 months. No government GR was issued for Vedanta. Land not given. Now they are indulging in falsehood, Bawankule charged.