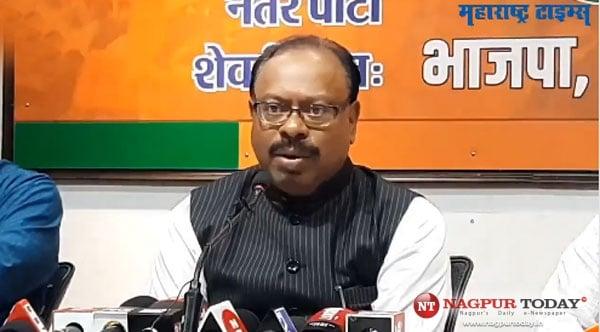 Nagpur: Maharashtra BJP President Chandrashekhar Bawankule on Monday dared Shiv Sena (UBT) chief Uddhav Thackeray to snap all ties with Congress stating that the "party's state chief Nana Patole has endorsed Rahul Gandhi's stand and insulted freedom fighter Veer Savarkar".
Interacting with the media in Nagpur, Bawankule said, "You (Thackeray) approached Congress for becoming a Chief Minister. If you leave Congress now, the entire Maharashtra along with me will congratulate you. Show some qualities of being a Thackeray. Do not just make speeches in public rallies."
Pointing out that Thackeray had not given up CM's post when "Gandhi had insulted Savarkar many times during his Maharashtra leg of the Bharat Jodo Yatra", Bawankule said, "Now why is he suddenly talking about Savarkar?"
The BJP chief also questioned Thackeray's demand for holding Assembly polls in Maharashtra, stating that the latter had gained backdoor entry in the Legislative Council. "Those who have never contested any election should not talk about it. Thackeray always asks why the Shiv Sena (Shinde group) seeks votes on his father's name and why not Prime Minister Narendra Modi's name? Is there any comparison between Uddhav and Modi? We will see their fate in 2024," said Bawankule.
Bawankule pointed out that when Devendra Fadnavis was CM, his government never faced any corruption charges. "But you have joined Congress whose religion is to accumulate money and to be in power. Talking about corruption does not suit you. You should better introspect as you are also indulged in corrupt practices along with Congress," he said.
Earlier on Sunday, Shiv Sena (UBT) President Uddhav Thackeray warned Congress leader Rahul Gandhi against insulting Hindutva ideologue Veer Savarkar, saying that he and his party won't tolerate it, media reports said. The Shiv Sena (UBT), the Congress and the NCP are part of the Maha Vikas Aghadi (MVA) alliance in Maharashtra.
Stating that though his party joined the Congress leader's 'Bharat Jodo Yatra' in a bid to save democracy, Uddhav said Rahul should avoid making statements that will create rift between the Shiv Sena (UBT) and the Congress.
"I want to tell Rahul Gandhi that we walked with you in your 'Bharat Jodo Yatra' as it was for the fight to save democracy. But I want to openly tell Rahul Gandhi that Savarkar is a God-like figure for us and we will not tolerate his insult…. We are together in the fight to save democracy. But do not make statements or take steps that will create fissures between the Sena (UBT) and the Congress. The BJP are trying to provoke you. If we missed the timing today, then our country will surely go towards autocracy," Uddhav said while addressing his Shiv Garjana rally at Malegaon on Sunday evening. Reiterating Savarkar's role and sacrifice during the freedom movement, he said that what Savarkar did and suffered was unimaginable.