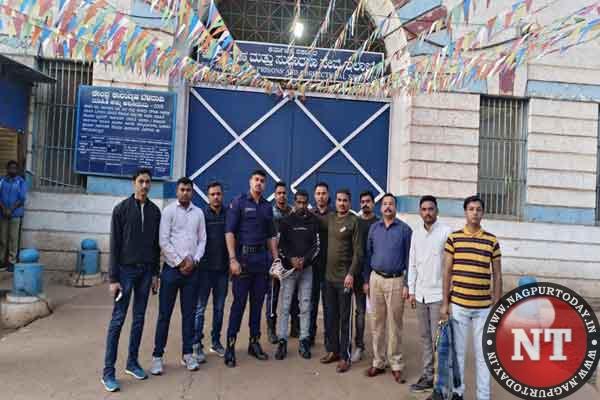 Nagpur: In a major success, a team of Nagpur police took Jayesh Poojari alias Jayesh Kantha into custody in a case pertaining to threat and ransom calls to Union Minister Nitin Gadkari. The Nagpur police team had reached Belagavi to interrogate Jayesh Poojari who was lodged in Belgaum jail in Karnataka in this connection. Pujari was brought to Nagpur for interrogation, according to a report in a news channel.
The cops would likely interrogate Poojari to get the location of the phone that was used by him to make the threat calls to Gadkari. Poojari, a resident of Mangalore, was lodged in Belgaum jail on charges of extortion and murder. He was sentenced to death by the court. Later, the sentence was converted into life imprisonment. Preliminary probe reveals that Jayesh had made the threat and extortion call to Gadkari's Public Relations Officein Nagpur.
It may be mentioned that this is the second time when Poojari made threat and extortion calls to Gadkari within three months. He also had made a similar phone call to an Inspector General of Police (IGP) rank police official of Karnataka. On March 21, Poojari demanded Rs 10 crore extortion from Gadkari for not harming him and asked to deposit the amount in the account of one Razia through UPI. Razia, is allegedly the girlfriend of a man who is lodged in the same jail with Poojari.
The team from Nagpur City Police, assisted by their counterparts from Belagavi (Karnataka), had conducted a search operation at Hindalga Central Jail on Thursday. The search operation was successful in recovering two cell phones and two SIM cards that were used by prisoner Jayesh Pujari alias Pujara alias Jayesh Kantha to make threatening calls to Union Minister for Road Transport and Highways Nitin Gadkari for extorting crores of rupees from him.
On March 21, Pujari made three threatening calls to Gadkari's Public Relations Office and demanded Rs 10 crore. Previously, Pujari had also used the same cell phones and SIM cards to make threat calls to the Union Minister's office, demanding Rs 100 crore on January 14. Pujari had claimed that he was a member of Dawood Ibrahim's gang and had asked Gadkari's staff to deposit an amount in the account of an Event Manager based in Mangaluru, named Razia, through UPI, to ensure he did not harm Gadkari.