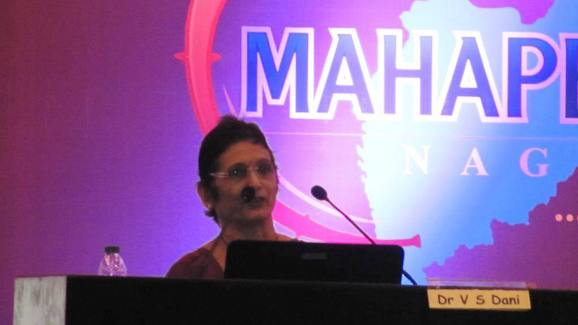 Nagpur Today.
The basic right of a child is being born in a safe non-discriminatory nation said former Professor and Head of the Dept. of Pediatrics and Dean of GMC Nagpur, Dr Vibhavari S Dani in 'Dr A M Sur Memorial Oration on the topic of Status of Children in Rural Maharashtra' in the second session of 9th Annual Conference of Academy of Pediatrics Nagpur Branch workshop in the memory of the First Professor and Head of the Department of Pediatrics Govt. Medical College Nagpur Late Dr. A.M Sur which was held at Hotel Centre Point Ramdaspeth Nagpur, on October 18, 2013.
Dr. V S Dani focused mainly on the critical components for healthy childhood, child survival and protection of child, mainly from rural and tribal population. She said that infant mortality rates and neonatal death rates are very high in Maharashtra due to some critical reasons such as marriages at an early age in tribal areas resulting unsafe delivery, they do not have post natal checkups and they do not have proper family planning, consumption of alcohol, and tobacco without knowing its ill effects and many more.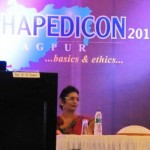 Dr V S Dani is working for tribals of Melghat in the field of child health and nutrition, community awareness, mortality control program and many more since 2010. She briefed about her Melghat experiments like Home-Based Management by VHW to cure diseases such as diarrhea, pneumonia. She told that in this experiment semi-literate married tribal local women were selected by VHW and trained for home based management, taking care of new born infant by providing them some medicine kits which includes medications for de-addiction, HIV, vaccination for new born children etc.
She added that many good government health schemes are still not reaching to the rural tribal people due to lack of proper training of grass-roots, improper monitoring, and lack of accountability. Also, public private partnership helps to furnish the better results as private hospitals can be utilized for health care by insurance schemes.
She concluded the oration by saying, "Child Survival was the IAP's vision of 2007 and 68 workshops were taken place for basic care for mortality, health care for malnutrition but we still need more".
To encourage the research at postgraduate level, there was "Award Paper and Poster Presentation" in the morning session prior to 'Dr. A.M Sur Memorial Oration' and three best papers and Posters were awarded. The oration was well attended by a large number of Doctors, Students pursuing a career in Pediatrics and many other prominent personalities.