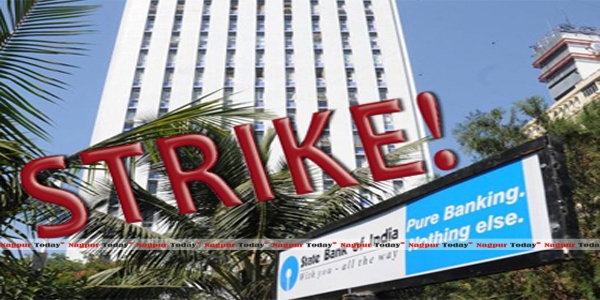 Nagpur News.
Owing to failure of talks in presence of Chief Labour Commissioner, all the employees of nationalised banks  throughout the nation were on strike and banking operations remained paralysed.  People could not transact any business and total loss to industry and business went into crores.
In Nagpur this morning hundreds of employees gathered at State Bank of India Kingsway and also in front of Bank of India. They took out rally under the banner of UFBU.  They vent their ire at the Central Govt. Even women employees  were not behind in the strike.  Various bank unions, like Eastern Maharashtra Bank Employees Association   participated  in the strike.  UFBU Deputy General Secretary, Jaywant Gurve said that the strike is for pressing 10th Bi-party Wage Agreement and putting stop to the bank reforms. We are opposing the government policies he told. The two day strike has made dent in economy where losses have run into crores and the people have become desperate. The currency notes were put into the ATMs so that people should not suffer. BNJ Sharma, Milind Wasnik, Ayyar, Surabhi Sharma,B K Talware, Rajkumar Gupta, Pradeep Yelne, D S Mishra, Anant Kulkarni, Ramesh Kumbhare, N Vyankatachalam, V K Madan, P S Kohle, R P Thakre, VV Asai, L P Nandanwar, Suresh Bobhate, Sudhir Kudupale, Ramesh Deshpande, Vijay Thakur, S P Tiwari, Darshan Naidu, Prabhat Kokas, Gunwant Gujade, Ramesh Kewalkar, Ravi Joshi and hundreds of bank employees participated in the strike.
The two day strike has left its impact on people and economy. After 1 o clock in the afternoon many bank ATMs were without money. The government had proposed ten percent rise in the salaries but the employees are not happy with this proposal. The bank employees are pressing for 25 pc rise in the remuneration. The demand is pending since 2012. Axis Bank, Federal Bank, HDFC, ICICI, IndusInd, Kotak Mahindra Bank, Yes Bank and other private banks did not participate in the strike. As there was no cash in nationalised bank ATMs, people had to rush to private bank ATMs.