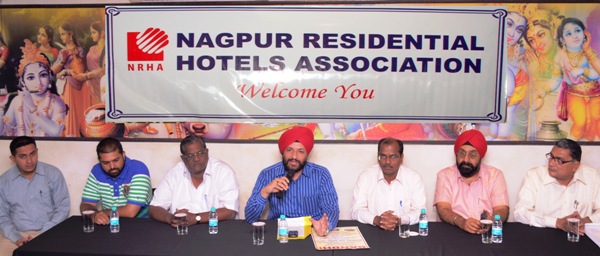 Nagpur News.
The Annual General Meeting of Nagpur Residential Hotels Association (NRHA) was held at Hotel Siddhartha Inn recently. In the AGM, the elections for the office-bearers of the NRHA for the term 2013-2015 also took place Prakash Trivedi and Tejinder Singh Renu were reelected President and Secretary respectively.
The other Office Bearers elected of NRHA were Inderjeet Singh Baweja & Govind K. Mudaliyar – Vice Presidents, Santosh Gupta – Treasurer, Deepak Pandey & Vinod Joshi – Joint Secretaries.
Members of the Executive Body elected were S. Y. Warambhe, Subhash Jaiswal, Sunil Kadu, Tarun Motwani, Dhirubhai Mehta, Dr. Ganesh Gupta, Nagesh Wazalwar, Vijay Sawarkar, Vikram Trivedi, Deepak Khurana, Rajesh Dharmik, Nitin Trivedi, Gaurav Gupta and Dinesh Trivedi.
Prakash Trivedi in his address to the gathering expressed thanks for giving him another opportunity to lead NRHA and said that entire team of NRHA is committed for the welfare of the members.
Tejinder Singh Renu said that in current year NRHA main stress shall be of renewal of Public Entertainment and Eating House Licenses from Commissioner of Police office of many members, which are pending since last 5 to 6 years.
The meeting was conducted by Tejinder Singh Renu & vote of thanks was proposed by Deepak Pandey.