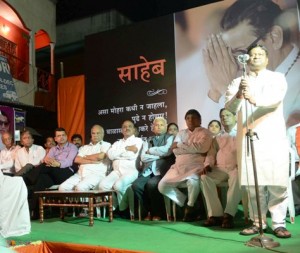 Nagpur News:Nagpur Mayor Anil Sole has announced the construction of a grand memorial in the name of bereaved Shiv Sena supremo Balasaheb Thackeray in the city, while presiding over a condolence meeting held in the premises of Sena Bhavan.
Convening the meeting, Nagpur district Shiv Sena president Shekhar Sawarbandhe expressed the people's sentiments to develop a cenotaph dedicated to late Balasaheb in the city. After that Sole too consented to the need for constructing such a memorial, saying that the place to establish the memorial would be decided later but it would be certainly done. Sole said that there is extreme dearth of leaders like Balasaheb who lead their lives with high degree of workmanship and honesty.
In the meeting different party leaders also paid their tributes to the departed soul. Those present of the occasion included former BJP leader and MP Banwarilal Purohit, NCP leader Girish Gandhi, City's Congress President Jaiprakash Gupta, BJP MLA Devendra Fadnavis and others.